As we all lead busy lives, finding quick and easy meals that are high in protein can be a lifesaver. Here are 12 easy high-protein meals that will not only save you time but also keep you feeling full, satisfied and your fat loss diet on track.
Easy high protein meals
1. Egg Muffins: These easy-to-make muffins are perfect for a quick breakfast and are packed with protein. Whisk together eggs and your favorite veggies like spinach, broccoli, and onions, pour them into a muffin tin, and bake for 15-20 minutes.
2. Greek Yogurt Parfait: Mix Greek yogurt with your favorite fruits and nuts to make a delicious, protein-packed breakfast or snack.
3. Chicken Stir-Fry: Cook chicken and vegetables in a wok or large skillet with soy sauce, ginger, and garlic, and serve over rice or quinoa for a quick and healthy dinner.
4. Tuna Salad: Mix canned tuna with Greek yogurt and diced vegetables for a protein-packed salad that's perfect for lunch. Some high-protein pastas such as those made from red lentils or peas can also be a good addition here served cold.
5. Pita Pizza: Spread a whole wheat pita with tomato sauce, add your favorite toppings such as vegetables and lean protein like chicken, and sprinkle with low-fat cheese. This meal can be ready in 10 minutes in a toaster oven or regular oven. To take this a step further then use a protein wrap if you can get hold of them. They cut the carbs and add some extra protein to your meal.
6. Grilled Chicken Salad: Grill chicken breasts and serve over a bed of mixed greens with your choice of veggies, nuts, and dressing for a satisfying and nutritious meal.
7. Protein Smoothie: Mix your favorite protein powder with almond milk, fruit, and ice for a quick and easy breakfast or snack.
8. Turkey Meatballs: Mix ground turkey with breadcrumbs, egg, and seasonings, roll into balls, and bake or pan-fry for a tasty and protein-packed meal.
9. Overnight Oats: Prepare a jar of high-protein overnight oats the night before and wake up to a ready-made breakfast. Combine rolled oats with your favorite milk, Greek yogurt, and toppings such as fruits and nuts. You can also add your protein powder into the mix for an extra protein hit. This meal provides fiber and protein that keeps you full and satisfied all morning long.
10. Salmon and Vegetables: Grill or roast salmon with your favorite veggies like asparagus, zucchini, and bell peppers for a satisfying and healthy meal.
11. Cottage Cheese and Fruit: Mix cottage cheese with your favorite fruits like berries, banana, and mango for a protein-packed snack or dessert.
12. If preparing high-protein and healthy meals are a challenge then consider a meal prep company to do it for you. We recommend Prep Kitchen UK and Trifecta Nutrition USA.
These 12 high-protein recipes are quick and easy to make and will keep you feeling full and satisfied all day long. Incorporate them into your daily diet for a healthy boost of protein!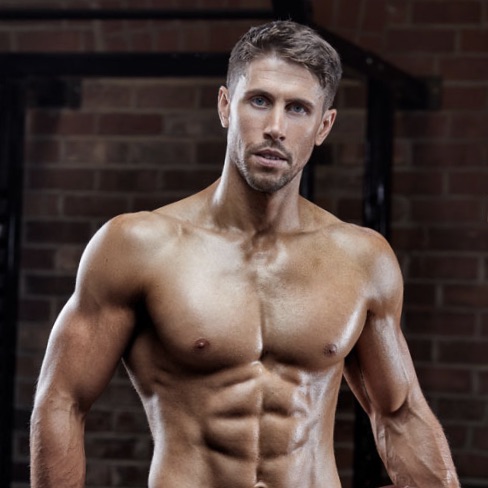 I build Olympians, Cover Models and those who want to look like them. Author or "Ultimate Abs" available in all good book stores.