Here's how to make your very own "energy balls" with just four ingredients. They're a heck of a lot cheaper than the stuff you buy off the shelf, and you know exactly in them. Once you've made them once there's no limit to the amount of flavor combinations you could experiment with. For example you could swap the ground almonds in this recipe for ground hazelnuts. Or, the cacao for powdered peanut butter. Anyway, let's get started and master the basic recipe first.
Nutrition (makes 10):
121 kcal
15g carbs
7g fat
1.4g protein
Ingredients
1 cup pitted medjool dates
1/3 cup cacao powder (or good quality cocoa powder)
1/4 cup melted coconut oil
1/4 cup ground almonds
Method
In a food processor or good blender chop the dates until they form a paste. Chopping the dates a little beforehand will help.
Add the rest of the ingredients to the food processor and combine well. If using a standard blender then you'll likely need to finish combining the ingredients by hand.
The mix should form a ball that's firm but easy to shape. If it's too wet then add extra ground almonds until right.
Use both palms of your hands to roll in to approximately 10 balls.
Roll in a little extra cacao powder, chopped nuts or desiccated coconut to finish. This also acts to stop them from sticking together.
Place each ball on to a sheet of baking paper, or plate lightly dusted with cacao.
Place in the refrigerator to firm-up for at least an hour.
Keep them stored in the refrigerator or a cool room until enjoyed.
The perfect pre-workout snack?
The natural caffeine and theobromine in cacao act as mild stimulants, while theobromine is also a vasodilator (allows blood flow more easily through your vessels). Cacao also contains certain flavonoids that increase nitric oxide production.
Unlike directly after your workout where you want to keep fats to a minimum, an hour or two beforehand a little fat is a good thing. A 2014 study by Yi et al. showed an almond-based snack actually beat a carbohydrate-heavy snack for maximizing exercise performance.
Theoretically the fats (including MCT's) from the coconut oil and ground almonds will allow you to sustain the energy obtained from the carbohydrates (dates in this case) for a longer period of time. Try also adding a few pinches of a good pink salt to the recipe, for both taste, pump and performance.
For fat-loss and muscle-building recipes check out The Fitness Maverick App!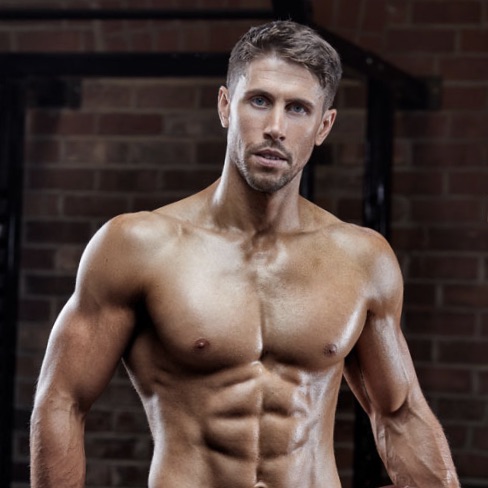 I build Olympians, Cover Models and those who want to look like them. Author or "Ultimate Abs" available in all good book stores.