Before we get in to these fudgey pre- workout energy bars… a quick note on how you can work with me to achieve your physique goals, while still eating the foods you enjoy.
Sound too good to be true? Not really, because when you're doing the correct things at the right time, using a system that proven, it's actually pretty easy.
With The Fitness Maverick Coaching plan you can work with me in-person or online from anywhere in the world.

I'm not going to promise that you can sit on your butt all day, eat pizza every day and still get in great shape.
But I will promise that if you can spare at least 3 hours a week to being in the gym, and are willing to follow the flexible food plan I set out for you, the results are inevitable.
For experienced, inexperienced, or motivated athletes, everything is build and customised for YOU.
Let me take charge of your training and nutrition, show you how you don't need to be eating cardboard and rabbit food, and take charge of your physique goals.
Find out more by clicking HERE, or fill out an application form HERE so I can get back in touch with you. Hope to hear from you if you're ready.
Why these rock
This is one of my favourite recipes ever. Not only because of its amazeballs flavour, fudgey texture, or as a craving crusher. But because it makes the perfect pre-workout energy fuel or mid-morning pick me up.
If you're allergic to carbohydrates then maybe skip this one. Since carbs make you fat, right!? But if you enjoy a sustainable healthy food plan, and flexible way of eating like I advocate, then you need to give these a go.

I've always said that almonds and dark chocolate make great pre-workout snacks.

The antioxidants in good quality cocoa increase blood vessel dilation and improve blood flow to the muscles. Translation; dark chocolate will give you a pump. Both in the gym AND in the bedroom department.

Almonds are another good one, and ideal before a vigorous strength workout, or longer duration endurance session. In a 2014 study Yi et al. showed an almond-based snack to be far superior to a carbohydrate-heavy snack (a cookie).

Almonds allowed the subjects to sustain a higher intensity of exercise for longer. The mode of exercise used was cycling, but we can apply these results to many other forms of exercise too.
The medjool dates and oats make for a great mix of sustainable energy too, with the salt helping to maintain electrolyte balance and adding to a great workout pump.

If you don't care about all the good stuff and just care about the taste, then you won't be disappointed either. I'd simply describe them as dangerously addictive.

Macros (makes 16): 262kcal, 33g carbs, 11g fat, 8g protein.
Cost: Around 53p per portion

Ingredients
18 medjool dates (around 350g), soaked in water
175g rolled oats 60g vanilla whey protein (or plant-based sub)
170g almond butter
1 TSP cinnamon
1/3 TSP good quality salt
150g good quality (>70%) chocolate
Method
Soak the dates in warm water for around 10 minutes so they plump up and soften.
In a food processor or powerful blender blitz together the oats, protein powder and cinnamon until fine.
Drain the dates then add to the food processor along with the rest of the ingredients. Leave out the chocolate. Save the water from the dates just in case.
Depending on your protein powder you should find a dough has formed. If it's a little wet then add a little more oats. Or if a little dry then add some of the drained water from the dates.
In a Tupperware container or square tin spray a little oil so the bars are easier to remove. Alternatively line with greaseproof paper.
Press the dough in to the container or tin, being sure to get an even spread in all corners.
Place in the freezer while you prepare the chocolate. Break up the chocolate and melt gradually in the microwave, or in a glass bowl over boiling water.
Pour the chocolate evenly over the base, then throw in to the fridge until set. Store in the refrigerator or at room temperature.
And that's a wrap! If you make these I'd love to see your creations by tagging me online, or let me know your thoughts in the comments.
Gareth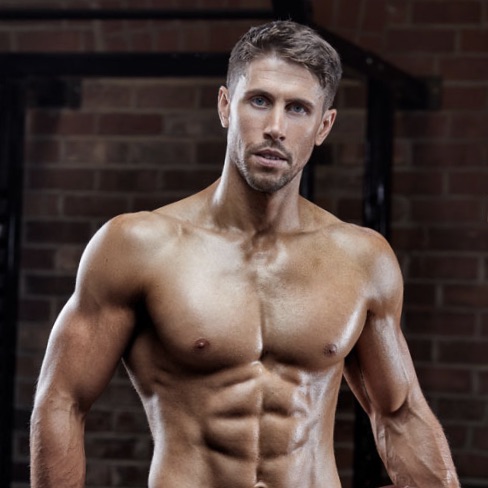 I build Olympians, Cover Models and those who want to look like them. Author or "Ultimate Abs" available in all good book stores.