Today, with just the click of a few buttons, you can workout with pretty much any trainer that takes your fancy. No longer are you restricted to your local gyms personal trainers. Instead, you have the pick of potentially thousands of online coaches from anywhere in the world. Like a "world buffet" restaurant, though, this amount of choice can either be a great experience, or a catastrophic one for your body (and your wallet).
A good online coach can work with you to overcome any obstacle, ultimately allowing you to achieve your ideal physique and performance goals. And, they'll often do this at the fraction of the cost of working with them in-person. For this reason it's easy to see the appeal of getting a good online coach. But, how do you know what a "good" online coach is? Today, 11 top trainers give you the answer.
PJ Striet
If you are going to hire an online trainer…it's about their systems and responsiveness.
You want an experience which is 'more personal than personal training'.
If you anti up $200-400 a month, you best be getting a same day response. Habits should be tracked. There are defined check ins. You should have instant access to your coach and expect a timely response and solution.
Metrics have to be tracked so both YOU and the coach can pin point 'this is why you did or didn't get results and here is what needs to be worked on'.
PJ Striet is a 25 year fitness industry veteran and owner of Revive Fitness Systems, LLC. For more information visit HERE.
Dr. Joel Seedman
There are 3 key elements that folks need to look for when it comes to online coaching. In fact these are 3 components I try to implement into my own online personal training sessions with my clients.
1. Focus on form and body mechanics. It's enticing for a trainer to simply go into chill mode since he or she can either just tell the client what to do or sit at his or her computer with little coaching, cueing, and verbal instruction. However as with any in-person trainer, a good online trainer should be able to watch the client's form while also demonstrating to him or her what proper form and body mechanics look like very meticulously. Just because it's online and not in-person doesn't mean that form and body mechanics can or should be less emphasized. If anything they should be just as heavily focused on as they would be with in-person training.
2. The trainer should take you through an assessment. Once again, many online trainers will suggest that assessments and movement screenings are tough to do online therefore they simply forgo them. A competent online trainer should be able to take you through a movement screening and catch most if not all of what they would see as if they were doing an all-out assessment in person. Everyone has various forms of muscle dysfunction and aberrant movement patterns. The trainer should catch most of these. Furthermore they should understand how to use these assessment elements to customize the client's workouts and training sessions.
3. The workouts should be modified, customized, and adapted, not only to the individual's goals and training levels but also to their equipment availability. Even if the client literally has zero equipment at their disposal, a competent online coach should be able to take them through an intense and effective workout routine, targeting most of the major muscles in their body and spike their heart rate using just bodyweight movements. If they have a few dumbbells, use them. If they have bands use those too. If they have water jugs, improvise and make the most out of those. If they have an entire home gym or full-scale fitness center at their disposal then make use of whatever they have available. Simply, the trainer should adjust for the client, not have the client adjust to the trainer.
Dr. Joel Seedman, PhD, is an internationally recognized neuromuscular and sports performance expert. For more information visit HERE.
Meghan Callaway
A huge goal of mine as an online coach is to make sure my service is very personal, and that my clients feel like I'm there with them in person as much as is possible. When I was working with clients in person I exuded passion and got my clients very excited about training, I was always able to troubleshoot form and adapt on the fly, and I designed programs that were appropriately suited to my clients individual needs, goals, and preferred training style.
While the qualities an online coach should possess will vary depending on the types of people they work with, and different client goals, I feel like these qualities are very beneficial for online coaches to have. Also, as I'm obviously not there with my clients in person, each week on our set client check-in day I have my clients send me videos so I can assess their form. This allows me to troubleshoot, and coach them as I would in person. So again, passion, adapting/troubleshooting, being able to break down form and apply digestible feedback, and catering to each individual is so important.
Meghan Callaway is a strength coach, accomplished writer, and creator of the Ultimate Pull-Up Program. For more information visit HERE.
Gareth Sapstead
Just like an in-person trainer, online coaches also have different "specialities". That "speciality" may or may not be be you. You wouldn't expect a French classically trained chef to make the best sushi. Or vice versa. Just like you wouldn't expect a coach who specializes in pro athletes to be the best "Biggest loser" trainer. It's not to say they wouldn't try, but their experience wouldn't transfer to who they're being asked to work with.
Once you've found an online coach who specializes in people just like you then here are some things to tick-off as you go along:
Experience and credentials – Just because they can hide behind a computer screen it doesn't mean your coach should get away with little relevant experience, qualifications, or insurance. I don't know many good online coaches that weren't great in-person coaches for years prior.
Your consultation experience – Did those few clicks on the internet lead you through fancy landing pages which ended up on a "buy it now" button, or did they lead to booking an actual conversation with the coach? Even then, if it takes a week to get an email back from them, or to jump on a 15 minute call, it isn't a good sign of their overall responsiveness. If they're slow now then just imagine how slow they'll be once you've handed over your cash.
The plan – I'm often thanked for pushing clients outside of their comfort zone and turning weakness in to strengths. But, if the plan or exercises aren't feeling right, or the schedule isn't sustainable, then your coach hasn't listened. Either that or they're giving you cookie cutter plans. A good coach should be able to train you whether you've access to a badass gym, or even just your own bodyweight. Because the plan is built for YOU.
Level of contact – Depending on a coaches workload and the efficiency of their online systems, there are only a limited number of clients they can work with at any one time. Or at least, work with and accommodate their needs properly. If an online coach says their program has helped thousands of people then I'd be worried. Either if they've been at it for decades then I'd be worried about their service and retention.
Ongoing support and accountability – Can you message your coach anytime you want, or are they just going to stick you with a 90-day plan and leave? I get that coaches deliver their support in different ways, but all good coaches should be there to make even the simplest changes to your plan. Some coaches like myself also use apps to train their clients, as well as ask for form check videos. That way your coach can see your workout check-ins and stats, and modify your training plan accordingly. It's called "coaching" for a reason.
Gareth Sapstead, also known as "The Fitness Maverick", is a strength and physique coach, writer, author and fitness advisor. For coaching services visit HERE.
Calvin Huynh
A good online coach offers personalized help and world class expertise. They should be monitoring your program weekly and teaching you how to progress instead of tossing you a random program every few months.
They should be able to explain their training choices, coach you through multiple methods of nutrition, and bring a fun personality to the table. You can get support and accountability anywhere, but a true down to Earth expert who's invested in your success is hard to find nowadays.
Calvin Huynh is a trainer, online coach and joyful ruler behind AwesomeFitnessScience.com. For more information visit HERE.
Andrew Coates
Every online coach and fitness influencer promises individualized coaching and customized programs, but this isn't always reality. Many successful coaches clearly distinguish their offerings. Some have higher volume programs and templates with less individualization at a lower price point, and higher price point offerings with much more personal interaction and a plan which truly feels like your own. Far more often the promise doesn't match the delivery and you see cookie cutter workouts and diets with delays in responding.
Influencers who seem more about image than human connections and empathy are probably more smoke and less fire. Talk to your potential coach. If they respond in an authentic and giving fashion while not being aggressive in pursuit of sales, you might have a winner.
It's worth searching for someone with a great reputation or get a direct referral from a trusted friend. Find someone who's established but isn't too busy to devote care and attention to you as a client. And find someone who feels lucky and grateful to work with you.
Andrew Coates is a trainer, writer and host of the Lift Free and Die Hard Podcast. Follow Andrew on instagram.
Daniel DeBrocke
Here are a few important things to remember when looking for a trainer.
1. You're not paying for a trainer, you're paying for results. So evaluating a coach based on price alone will save you money in the short term. But leave you short on results and cash in the long run. Find someone who has a proven track record of results. If they can't demonstrate results with others, why should you expect anything different.
2. You need to be bought into your trainer and the process. If you're not bought in you won't trust them. If you don't trust them, you're unlikely to follow through with the plan and you're likely to come up short. Make sure their approach is something you believe in and you can integrate into your daily life.
3. Coaches often try to build relationships by becoming friends with their clients. Sometimes this "friendship" blurs lines and makes them look the other way when you're not putting in the work. Of course you want to like your trainer, but it's equally important that you respect them and they keep you accountable. Make sure your trainer has strong boundaries and isn't afraid to give you a nudge when you veer off track.
4. Avoid trainers who are dogmatic about systems (ie. my clients do keto, kettlebells, functional movement or powerlifting). Every individual is unique in some sense. And although fundamentals have broad application, how they're executed can have significant inter-individual variation. In these cases trainers take in several clients but only the people best suited to their particular approach get results. The rest are chewed up and spit out. Good trainers don't force a system on the client. They work with the client to develop an optimal approach for their individual challenges and lifestyle.
Daniel DeBrocke is a strength coach at Kabuki Strength, writer, and owner of the Stacked Strength Podcast. Follow Daniel on instagram.
Jessica Kilts
If you're looking to bring on a coach—whether it be in-person, virtual training or simply programming—you've already taken the first critical step: understanding that you need or want help.
In my opinion, your coach should ideally be someone you have some sort of connection with, even if you don't know them. To ensure that, make sure you've conducted some research to determine you like their style of coaching. For example: Do their personal and professional philosophies resonate with you? Do you feel they'll understand your body and/or hardships? Do they explain things in a way that you can actually understand?
Whatever the initial reasons may be, you want to try to find a coach that is going to TEACH you and hold you accountable—not just tell you what to do, drive you physically into the ground, collect your money and move on.
Just as coaches should be looking at their students holistically in terms of their body type, athletic ability, medical history, habits, hardships, etc., so too should you.
While I believe it's very important to find someone that is highly knowledgeable (or even a specialist in a field that you're interested in), they should also be someone who cares about all the other elements involved in one's health and wellness, such as recovery, mobility, nutrition, stress management, etc.
As a coach, I think it's often less important to simply collect metrics on a client, and more important to focus on creating a trusting relationship with them—and above all, EDUCATE them. Every day I ask myself: "Have I helped this person understand the what, how and why of what I'm having them do?"
The bottom line is this: I pride myself on having a very high retention rate with my students, BUT if they were to go out on their own tomorrow….would they know what to do? If the answer is yes, I've done my job.
Jessica Kilts is a strength coach working with everyone from elite powerlifters to those at the beginning of their fitness journey. Follow Jessica on instagram.
Sam Pogue
When choosing an online fitness program, the most important thing to consider is how approachable the program to your current lifestyle and skill level.
If you're a busy executive balancing a job, partner, kids who are unexpectedly homeschooling, or you already struggle with consistency, then a 90-day challenge of high-intensity conditioning exercises may not be the best program for your current lifestyle. Choose a plan that meets you where you are at across all facets of life.
Sam Pogue is a leading coach having held high-level positions at TrueCoach and Onnit. He's the founder of The Be Less Un-Fit Program.
Ross Gilmour
A great coach will help their client's create clarity of vision in what they are trying to achieve and the action steps needed to get there. A great in-person or online coach will have systems in place to ensure relevant data can be collected for each client's specific needs. after all data is king and what gets measured gets managed!
Then via regular touch-points and check-ins, a great coach will make informed decision's and tweaks to ensure client's keeps moving forward towards there goals, as well as how to navigate inevitable bumps in the road along the way.
This is why we create for each client what we call their very own "Better Body Roadmap". With a clear path mapped out, it's then our job to make sure the client can operate to their full potential. This is the least you should expect from a quality coaching service.
Ross Gilmour is a coach, fitness writer, podcast host and owner of the Better Body Collective. Follow Ross on instagram.
David Otey
With the forcibly blunt introduction into mass online training, there is mass diversity in the offering. For some, you can find meticulously detailed programs with tips, explanations, and the process of learning. With others, you may be getting cold copies of old workouts from exercise magazines. When it comes to navigating these fields, here are two key principles I would search for.
Find an educator – someone who can teach you the craft and how to make the most of working out. The most frustrating fight in the fitness journey is the constant questioning of "am I doing it right?" Find someone to TEACH and not just show.
Second – find someone who navigates the journey with the equipment you have available to you. You won't immediately (or maybe ever) have all the equipment you want. Find a pro that can cater to the diversity of your personal set up. It's almost like speaking your gym language. Content is great, but if you both don't speak the same "language".
David Otey is the owner of Otey Fitness, a coach, an educator, and Mens Health advisory board member. For more information visit HERE.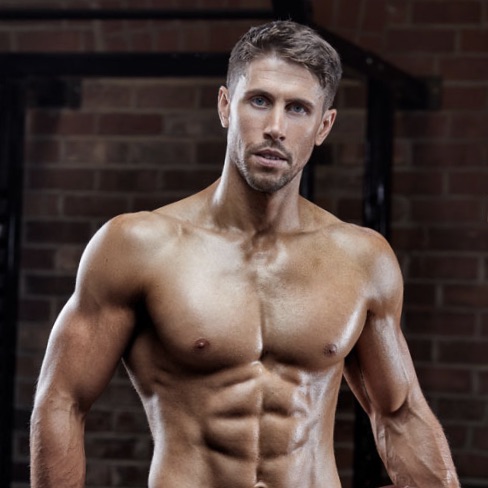 I build Olympians, Cover Models and those who want to look like them. Author or "Ultimate Abs" available in all good book stores.