This is guaranteed to be the best low carb keto-friendly almond biscotti biscuit you'll ever make. The perfect accompaniment to your morning cuppa, and an ideal craving crusher.These are Italian biscuits with attitude. Made as close to an authentic recipe as possible, but with a few low carb hacks. Powdered stevia was chosen to provide sweetness to these biscuits, as it's a slightly more natural form of sweetener, as well finding that it helped give the biscuit a crunchier texture at the end. Other low carb sweeteners were used but this performed the best.
The key to this recipe and creating that crunchy biscuit we all love, is simply in the process of double-baking. You'll to be baking the biscuits once, letting them cool, then baking them again. It's a process that takes time, but it's more than worth it.
The biscuits were finished with an 85% cocoa dark chocolate drizzled at the end. This is optional however, but takes the biscuit to a whole new level of guilt-free snacking. Tempted?
The Best Low Carb Almond Biscotti EVER!
INGREDIENTS:
200g almond meal
3TBS stevia (or powdered natural sweetener of choice)
1TSP baking powder
1TSP arrowroot
1TSP vanilla extract
1TBS liquid of choice
1/4TSP salt
1 egg
50g grass fed butter
80g good quality chocolate (optional – for topping)
METHOD:
Line a baking tray with baking paper and preheat the oven to 160c (320f).
In a large mixing bowl place in all of the dry ingredients
Place in all 0f the wet ingredients, keeping the melted butter until last if warm.
Mix in the bowl thoroughly. The arrowroot will help the mixture to form a fairly wet dough that's only just mouldable.
Form and roll in to 1.5cm (0.5 inch) thick rectangle. This is done better straight on the baking tray.
Bake for 20 minutes.
Cut in to traditional biscotti and leave to cool fully. The will still be fairly soft.
Once cooled fully place back in the oven, same temperature for another 15 minutes or until golden brown.
Take out of the oven. As they cool they will continue to harden.
Enjoy as they are or drizzle with around 80g of melted dark chocolate.
Store at room temperature in an airtight container for 4-5 days.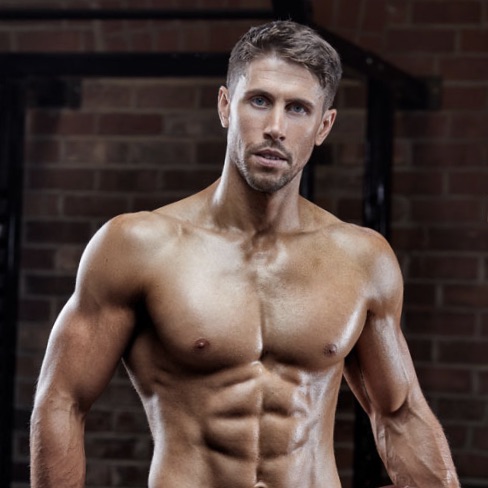 I build Olympians, Cover Models and those who want to look like them. Author or "Ultimate Abs" available in all good book stores.