Holy moly Batman! These sweet potato brownies must be some of the healthiest, easiest and tastiest brownies known to man. And that's a bold claim to make.
Most brownies you need to go through that whole hassle of actually having to turn the oven on. Problems, right. Then what if you burn the brownies or over bake them. No body wants an over baked brownie.
These sweet potato brownies are completely bake free and always deliver the perfect brownie texture. You can actually give these to your friends or children and play "guess the ingredient" and they'd never in a million years get it, or even know they were healthy.
As well as being completely grain free, refined sugar free, vegan, and a good source of healthy fats; they're also packed with a lot of other goodness from the sweet potato, nuts, and the high cocoa dark chocolate.
Interesting fact: Dark chocolate contain flavanoids known as catechin and epicatechin. These can help fight disease and degeneration of our bodies cells, and even help slow the ageing process. Yes, we said it; dark chocolate keeps you young!
INGREDIENTS
For the brownie base:
1 cup coconut flour
1 cup unsweetened cocoa powder (or cacao)
250g cashew or almond butter (you can use peanut if you wish however they overpower the taste a little)
1/2 cup pure maple syrup or rice malt syrup
1 large sweet potato, mashed without skin
1 tbs almond milk
1/4 cup coconut oil, melted
Few pinches salt
For the frosting – optional but well worth it
250g of any nut butter (we recommend cashew for creaminess and texture)
200g good quality dark chocolate
1 tbs maple syrup
1 tbs coconut oil, melted
METHOD
For the brownie base begin by lining a baking tin with cling film, being sure to leave plenty of overhang over the sides of the tin. Leave to one side.
Mash the sweet potato if not done already. Baking the sweet potato in the oven for around 50 minutes then scooping out the insides is the easiest method to create good mash.
Sift the coconut flour and cocoa powder in to a mixing bowl.
Add all of the other ingredients and combine well using a wooden spoon. You may even want to get your hands in to ensure its mixed well.
You should be left with a dough-like mixture. If too dry add a little more almond milk. If too wet then add coconut flour.
Scoop the mix in to your ready prepared baking tin, pressing down firmly so all of the edges are packed tight.
Place in the fridge to firm-up for at least an hour.
For the creamy chocolate frosting begin by melting the 200g dark chocolate over a Bain-Marie.
Once fully melted add in the coconut oil, maple syrup and nut butter. Combining well.
Pour the chocolate mixture on to the brownie base maxing sure its evenly spread.
Place back in the fridge for at least 2 more hours before cutting and serving.
Then send us a message to tell us that they're the best healthy brownies you've ever eaten 😉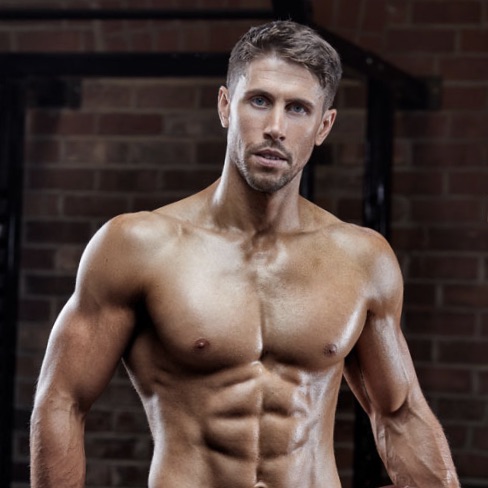 I build Olympians, Cover Models and those who want to look like them. Author or "Ultimate Abs" available in all good book stores.