This is your simple guide to make a killer frozen smoothie bowl EVERY TIME. This is an ideal breakfast option, since once you know how to do it its so simple you wonder why you weren't doing it before. There's also nothing like a noisy blender to wake you up in the mornings.
Pack a giant dose of your daily fruits in to this one meal for a healthy morning hit of vitamins, minerals and whatever else you want to add to it. A refreshing summer brekkie to kickstart your productive day.Tip: Forget fresh berries, just buy frozen berries for a huge time and money saver. They are just as good.
A frozen smoothie bowl can be made using these four simple steps:
Step 1: In your blender put about 1-cup of frozen berries, any type, your choice.
Step 2: Add any extra fresh fruit you've got on hand, about another half-cup. The smoothie bowl shown used dragon fruit, but you can add anything you like. Banana is good for texture and carbs, fresh strawberries are good for flavour. Melon works great too, but really it's completely up to you. Half a cup.
Step 3: Add your fluid. This can be water, or it can be a milk of choice. Almond, coconut, soy, hemp, they all work well. Depending on the power of your blender you may need to add more, but start with half a cup. Add more until the blender is working properly and blends to a smooth consistency.
Step 4: Pour/spoon in to your favourite breakfast bowl and add your toppings. These can include things like: Nuts and seeds, fresh fruit, coconut, goji or acai berries, cacao nibs, granola, or even edible flowers for a good picture!
Want more protein? Then try adding a scoop of your finest protein powder to the blender, with a little extra fluid. Unflavoured or vanilla protein works best but a fruity flavour could work well too depending on your mix.
Got a sweet tooth or fruit too bitter? Sweeten it by adding a few drops of stevia to the blender, or even a little natural honey. More or less depending on your taste preferences.
Now you know how to make one of these "picture worthy" breakfasts in just minutes, the flavour and topping options are endless. Make your breakfast exciting again, try a smoothie bowl.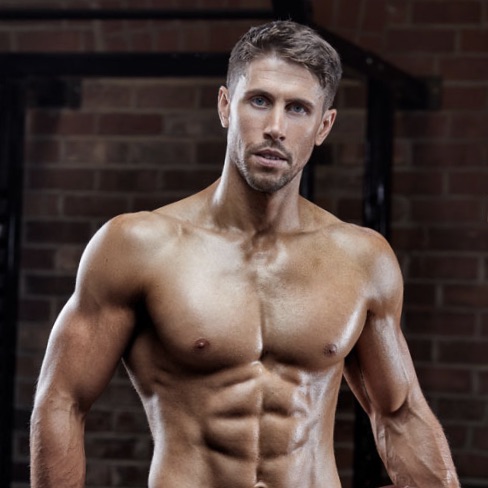 I build Olympians, Cover Models and those who want to look like them. Author or "Ultimate Abs" available in all good book stores.