The macros in these Pumpkin Spice muffins are a nutritionists dream!With a good size muffin each will only give you 141 calories, and with it an amazing naturally sweetened cakey texture. Similar to our Banana-Blueberry Brekkie muffins, these make a great grab-and-go breakfast option for when you're in a rush, or the perfect craving crusher for any time of day. Very low GI and effect on your blood sugars too, so no post-cake energy slumps! The perfect snack.
There's also an option to add an extra protein kick to these (see the recipe below), making an almost even split between protein, fats and carbs.
These muffins truly are fit for the Maverick name, who knew you could make muffins this healthy and tasty, and from bowl to baked in under 30 minutes!
Per Muffin (without the protein kick): 141kcal, 8.3g carbs, 9.3g fat, 5.3g protein
Per Muffin (with the protein kick): 158kcal, 9.1g carbs, 9.5g fat, 9.3g protein
INGREDIENTS (makes 6  muffins)
3 Whole Eggs, beaten
1/3 Cup Coconut Flour
1/2 cup Pumpkin Puree (I just diced, boiled, then mashed a pumpkin I already had)
2 TBSP Grass Fed Unsalted Butter or Coconut Oil, melted
4 TBSP Natural Honey
1 TSP Vanilla Extract
1/2 TSP Cinnamon
1/2 TSP Ground All Spice (or switch Cinnamon and All Spice for Pumpkin Spice if available)
1/2 TSP Baking Powder
1/4 TSP Salt
3 TBSP chopped Pecans (or Walnuts)
Protein Kick: 30g of protein powder can be added to the mixture also (vanilla or natural). Only a plant-based protein source has personally been tested (as these generally bake better) and produced a slightly more densely-textured, Yet still fluffy tasty muffin. Whey may be used but bare caution as the texture may differ.
Optional extras: Pumpkin seeds/Pepitas/Sunflower Seeds, Dark Chocolate Chips, Blueberries, Chopped Dates.
METHOD
1. Preheat your oven to 180c/350f.
2. In one bowl place all of the dry ingredients together, sifting the coconut flour.
3. In a blender or food processor whizz together all of the wet ingredients, including the melted butter/coconut oil.
4. Mix the wet in to the dry, ensuring everything is mixed together well. The mix will thicken slightly as the coconut flour absorbs some of the moisture. If the mixture is still a little too wet add a dash extra coconut flour.
5. Throw in any additional/optional ingredients (seeds, berries, chocolate chips), or leave out to place on the top of the muffins.
6. Spoon the mix evenly in to 6 muffin cases.
7. Bake for 20-25 minutes until golden brown, or a toothpick comes out clean.
8. Leave to cool before storing in an airtight container for up to 4 days.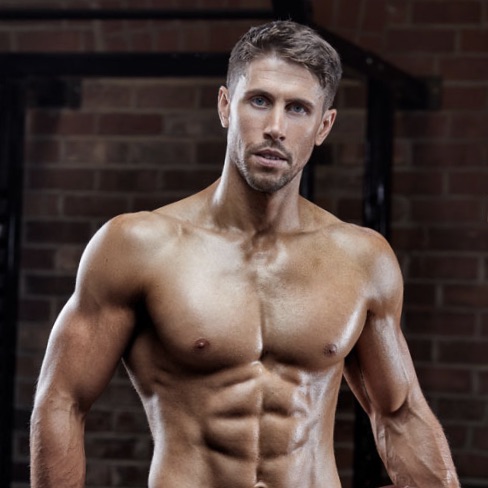 I build Olympians, Cover Models and those who want to look like them. Author or "Ultimate Abs" available in all good book stores.