Finally, healthy pancakes you don't need to watch over or flip! 20 minutes in the oven and you've got a perfect protein pancake every time.
It's sweet, fluffy, and kicks the ass of any boring french-style crepe pancake. Also, if you're the "sugar and lemon type" you should be ashamed – try these instead. They'll make your biceps grow, your glutes pop!
There's two portions of fruit in these (not lemon!) with a whole banana and some berry goodness. The pumpkin seeds on top add a moreish texture and toasted-nut-type flavour. If you're a man pumpkin seeds will help stop you from going bald too.
These are super high protein, high fiber, refined sugar free and gluten-free. If you care about that sort of thing. You could pretty much breakfast, lunch and dinner on these things and I wouldn't judge you.
This protein pancake recipe makes a giant strongman-size portion. I'd eat an entire one, and with extra toppings. But you may struggle so feel free to divide the ingredient amounts as you see fit (unless you smell a challenge here!!).
Macros for the whole thing:
641 calories
17 g fat
72 g carbs
53 g protein
12 g fiber
Ingredients:
1 Medium ripe banana
1/2 Cup uncooked rolled oats or oat flour
2 Whole medium eggs (or 3 egg whites for a lower fat version)
1 and 1/3 scoop (40g) vanilla protein powder of choosing
1/5 Cup (2.1 oz) zero-fat Greek yogurt
3/4 Teaspoon baking powder
1/2 Cup frozen berries
1 Heaped teaspoon pumpkin seeds (optional)
Few pinches salt
Method:
Preheat oven to 360 Fahrenheit or 180 Celsius.
Toss all the ingredients into a blender or food processor except the berries and seeds. Blend until well combined with no whole oats visible.
Spray an oven-proof skillet with a little low-calorie cooking spray. Pour the smooth batter into the skillet.
Throw some berries and seeds on top. You can use fresh berries, but frozen are just as good and keep the pancakes extra moist.
Bake on the top shelf for 18-20 minutes or until golden brown.
Optional: Serve with a little extra Greek yogurt, honey, maple syrup, or sugar-free syrup.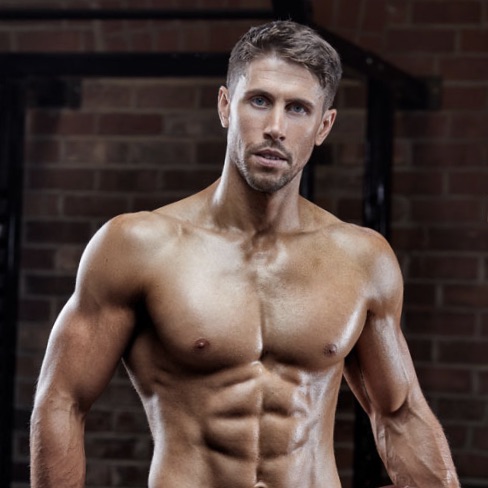 I build Olympians, Cover Models and those who want to look like them. Author or "Ultimate Abs" available in all good book stores.