If you like to enjoy a donut every now and then, but don't enjoy that huge feeling of guilt afterwards whilst licking the sugar off your lips, then this recipe is for you. 'Real' donuts are typically deep fried, contain heaps of sugar and fat, and just don't do anything good for the body. If there's one food that really doesn't have any health value to it whatsoever it's a donut. Okay you might say that a jam filled donut could have a trace amount of antioxidants hidden amongst the processed jam, but that's a really long shot.
These donuts just beat off the competition in every way, and dare we say it even taste and satisfaction factor. They're baked not fried. There's no processed sugar or grains in sight, and there's a good punch of all different nutrients in them that your body will love you for. We also used Loving Earth chocolate for coating, as we just love how its made, as well as the intense flavour. But if you can't get hold of Loving Earth products then a good quality dark chocolate is always your best alternative.
YOU'LL NEED
A donut shaped baking tin. You can purchase one of these in most good cookware shops, or online. We have used both the metal and silicone versions, and both are equally as good in our opinion.
INGREDIENTS (makes 12)
3 eggs or 3 flax eggs
1/4 cup coconut oil, melted but cooled
2 tbs squeezed fresh orange juice
Grated zest of half an orange
3/4 cup coconut sugar
1 tsp vanilla extract (optional)
2 cups almond flour
1/3 cup tapioca flour (or if you can't find this a gluten free flour blend also works
1/2 tsp baking powder
Few pinches salt
TOPPING
SOME ADAPTATIONS WE LIKE
Swap the orange juice and zest for lemon juice and zest, and add poppy seeds. Top with dark chocolate.
Forget the orange juice and zest. Replace liquid with almond milk, for an unflavoured donut. Brush with a little coconut oil after cooking and dust with cinnamon and coconut sugar to finish.
INSTRUCTIONS
Preheat the oven to 180c (350f).
Place all of the dry ingredients for the donuts in to a large mixing bowl.
Place the wet ingredients for the donuts in to a food processor or blender and combine.
Pour the wet mix in to the mixing bowl and combine well with a spoon.
Use spray oil or a little brush to lightly oil your baking mould.
Pour the mix carefully in to your mould, making sure not to go over the centre portion, so as to leave holes in your donuts. The mix should make 9-12 good sized donuts.
Bake for 10-12 minutes, or until just starting to turn golden.
Take out of the oven and leave to cool fully on a wire rack.
Once donuts are fully cooled, melt your chocolate in a heat proof bowl over a saucepan of boiling water.
Dip, spread, or drizzle the chocolate over the donuts.
Top with chopped pistachios and a little extra orange zest.
Leave to set before eating (if you can wait that is). Donuts will keep well in the fridge or at room temperature for around four days.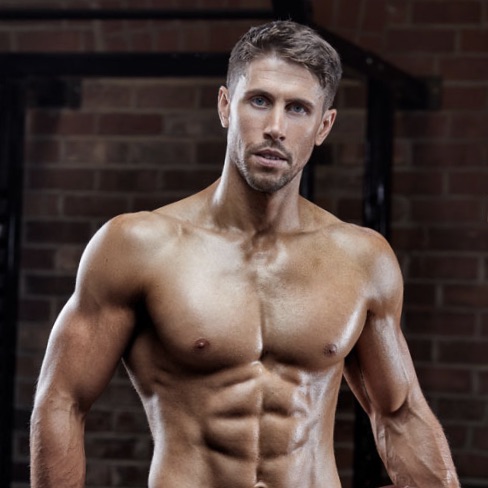 I build Olympians, Cover Models and those who want to look like them. Author or "Ultimate Abs" available in all good book stores.