If you're struggling for a healthy snack that'll help you get the right muscle building fuel, these flapjack-style bars are a tasty solution. High in protein, packed with healthy energy for workout fuel, and just enough healthy fats to keep your muscle and strength-building hormones in check. These oat-banana bars are a great pre- or post-workout snack, or even quickie breakfast idea whether you're trying to build muscle, or just drop a little body fat. Gluten-free and vegan too.
INGREDIENTS
2 cups gluten free rolled oats
1 cup mashed banana (about 2-3 medium bananas)
2/3 cup vanilla protein powder (about 4 large scoops)
1/2 cup natural peanut butter (can be substituted for cashew or almond butter)
1/2 cup unsweetened coconut flakes
1/2 cup mixed nuts and seeds (pick your favourites!)
1/2 cup dried fruit such as cranberries, raisins or goji berries (anything goes!)
1/4 cup brewed black tea (e.g., English breakfast, Assam, Masala Chai)
1-2 teaspoons ground cinnamon
(Optional) 2 tablespoons pure maple syrup or pure honey 
METHOD
Preheat the oven to 175c (350f), and prepare a 8-inch baking tin with baking paper. As picture shown you can also shape these in to bars or cookies if you prefer.
Brew your tea for a few minutes in boiling water and remove the bag/leaves.
Next, simply place all of the ingredients in to a bowl and combine well.
Once an even mix is formed you can taste and see if you need to add any extra sweetness, such as maple or honey.
Pour the mix in to the lined baking tin, or shape in to 12 cookies/bars and place on a sheet of baking paper.
Put the tin in the oven at 175c (350f) for 25 minutes, or around 18 minutes for cookies/bars.
Take out of the oven and leave to cool before cutting/serving.
The quantities shown should make 12 bars, but they can be made smaller or larger depending on your calorie requirements.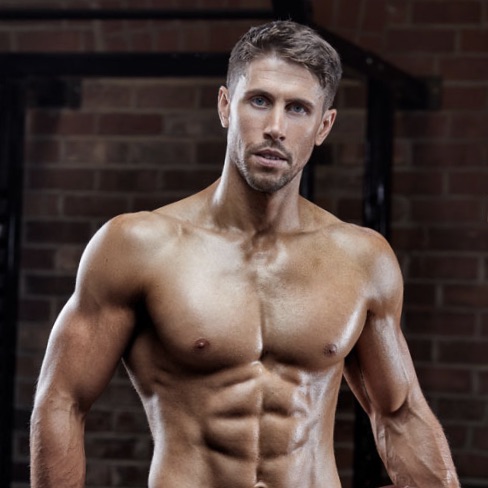 I build Olympians, Cover Models and those who want to look like them. Author or "Ultimate Abs" available in all good book stores.