Here's a delicious and super nourishing pumpkin bread recipe, that you'll make time and time again. Completely grain free, packed full of goodness, and overloaded with flavour.The first time I made this, honestly, I wasn't sure how it'd turn out. But it came out better than I could ever imagine. I've made this bread a handful of times now, experimenting with different flavour combinations with each bake. It's so versatile, with a list of herbs, spices, nuts and seeds you could add to change the flavour profile to suit your own tastes.
Fresh Rosemary is a favourite to add, with good flavour and a huge host of health benefits. Crushed Walnuts are great too for a nutty crunch, and adding extra brain boosting and anti-inflammatory Omega 3 goodness. Fennel seeds also give a flavourful punch, while adding an excellent source of minerals, antioxidants and various digestive benefits. You can also make this a sweet recipe by adding a little more coconut sugar and maybe some pumpkin spice.
Follow the base recipe below TO THE LETTER, then add any additional ingredients to the mix at the end, before baking.
This pumpkin bread makes for a great breakfast option, complimented nicely with some eggs done you way. It's a perfect dunker for a bowl of chilli, or a big mug of homemade soup. Make a sandwich with it, toast it, or just have it by itself. You've got so many options to choose from, which is why it'll soon become one of your favourite healthy bakes.
Note: If calorie restricting you may wish to control your portion sizes. This bread is made to be nutrient packed and full of goodness from a variety of food sources. This also makes the calories a little higher than your typical slice of bread. And like any slice of bread once you have one slice, a second isn't far behind! Portion control is key.
Per medium slice (makes around 12-14 medium slices): 218kcal, 9.7g carbs, 18g healthy fats, 6.6g protein.
INGREDIENTS
4 medium free range eggs

1 cup pumpkin puree (tinned pumpkin is easiest, or fresh cooked and mashed)

½ cup Macadamia nut oil, Avocado Oil, or Extra Virgin Olive Oil

3 cups almond flour

½ cup sifted coconut flour

¼ cup coconut sugar

1 TSP apple cider vinegar

1 TSP baking soda

1 TSP all spice

1 TSP good salt

¼ cup pumpkin seeds
SOME ADDITIONS
Texture and Crunch – walnuts, pecans, any seeds

Sweetness – add an extra ½ cup coconut sugar

Flavour – Fresh Rosemary, Fennel Seeds
INSTRUCTIONS
Preheat the oven to 150c (300f).

Line an 8×4 loaf tin (or 9×5 bread pan) with baking paper.

In a mixing bowl pour in all the dry ingredients, making sure that the coconut flour is sifted and combined well with the rest of the dry ingredients.

In a jug or even food blender, mix the wet ingredients, forming a bright orange liquid.

Mix the wet in to the dry combining everything well.

Add the pumpkin seeds to the mix, saving a few for on top at the end.

Add additional ingredients like any extra nuts, seeds or fresh herbs at this point too.

Spoon the mix in to the lined loaf tin, adding the extra pumpkin seeds and any other toppings.

Place in the middle of the oven for 50-60 minutes.

Take out when there's a golden colour on top, and a knife comes out clean when poked in to the loaf.

Take out of the oven and leave to cool a little before serving.

Cut in to slices and store in the freezer for later use if required.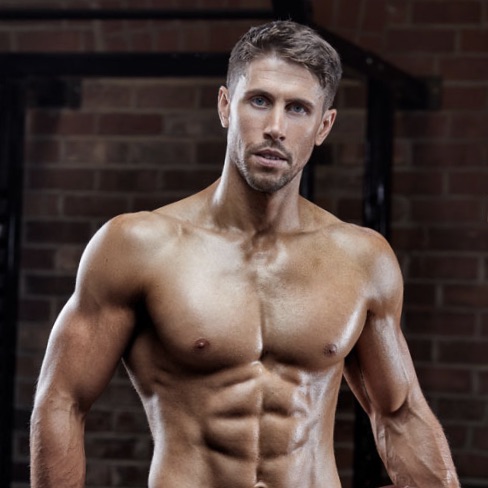 I build Olympians, Cover Models and those who want to look like them. Author or "Ultimate Abs" available in all good book stores.