Eggs, sweet potato, spinach and heaps of flavour. How can you combine these super healthy ingredients in to a tasty breakfast or lunch option that you'll look forward to every day. The "Maverick Frittata" that's how. This is one of the best food prep recipes out there, and a real game changer for breakfast in the morning. If you like savoury breakfasts but don't have the time then this is your answer. It also wouldn't look out of place as a snack or lunch option, either hot or cold.This recipe is gluten free, has a just a small portion of slow carbs for good energy, and packed with nutrients.
Makes 8 small portions or 4 man-size portions. Per square (8 squares): 144kcal, 10.7g carbs, 6.6g fats, 11g protein.
YOU'LL NEED
A loaf baking tin, or similar to use as a mould.
Baking paper
Large mixing bowl.
INGREDIENTS (makes 8 frittata squares)
10 whole free range eggs
100g low fat feta cheese
3 medium sized sweet potatoes
100g (about a bag) fresh spinach
½ chopped white onion
Fresh rosemary (About a tablespoon chopped)
Spray cooking oil
Salt and cracked black pepper to taste
SOME ADAPTATIONS WE LIKE
Try adding more low-calorie high-nutrient vegetables like mushrooms, peppers, or cooked kale.
Pumpkin instead of sweet potato for slightly fewer carbs.
Experiment with different herbs, herbs make all the difference.
Try goats cheese instead of feta. Or go for a harder cheese like cheddar, swiss cheese, or jack cheese.
Add a touch of fresh chilli to the egg mix for some fat burning power and extra fire.
INSTRUCTIONS
Preheat the oven to 160c (320f).
Line a loaf baking tin with greaseproof paper and set aside.
Pre bake the sweet potato in the oven until cooked and chop in to squares.
Lightly sweat off the onions in a pan, and wilt the spinach.
Time and money saving tip: Buy frozen wilted spinach. You get more for your money, it lasts longer, and frozen has just as many nutrients as fresh.
In a large mixing bowl crack the eggs, throw in some salt and pepper and whisk.
Add the onions, wilted spinach, chopped sweet potato, feta cheese, and rosemary, and combine.
Pour the eggy mix in to the lined loaf tin.
Place in the middle or bottom of the oven for around 50 minutes, or until the egg is completely set and there's a golden colour on top.
Let cool slightly in the tin before taking out to cut evenly in to 8 even squares.
Portion in to meals/snacks for the week, storing in the fridge for 4 days or freezer for a couple of months. Serve with more veggies.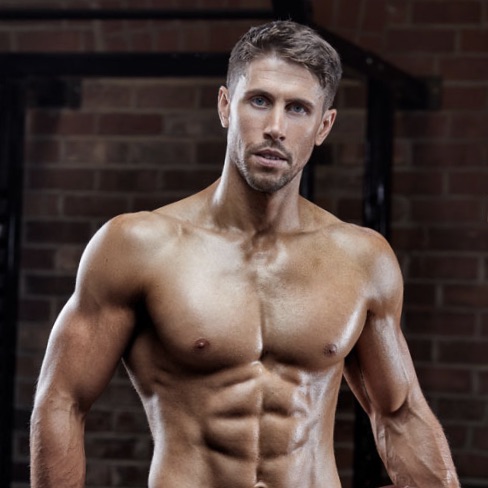 I build Olympians, Cover Models and those who want to look like them. Author or "Ultimate Abs" available in all good book stores.