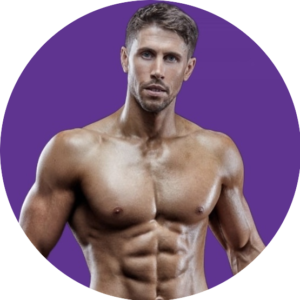 Hey, my name's Gareth!
I've been helping some of the hardest workers in the gym get strong and look good naked since 2005. You'll spot me in hardcover books, research papers, and in some of the most respected fitness publications in the world. Including T-Nation, Muscle & Fitness, Generation Iron, Mens Health, and the NSCA's Strength and Conditioning Journal.
As a Coach I've accrued tens of thousands of hours coaching in-person, from celebs, to athletes, to Olympia competitors, as well as holding contracts with BBC studios in London. As a sponsored athlete I have contracted partnerships with MIRAFIT (gym equipment), T-Nation Biotest (supplements) and Prep Kitchen (meal prep)
During my time as a Coach I've helped my clients overcome every obstacle under the sun, ultimately allowing them to make breakthrough changes in their physique.
It hasn't always been about looking great naked though. My formal education and background is as a strength and conditioning coach. I started out my years working solely with some of the best football and rugby teams in the UK, helping them get leaner, stronger and faster.
Working with large groups of athletes was great fun for the first 5 years or so, but 1-2-1 felt the most natural and rewarding. Training such a broad range of athletes and clients with different physique and performance goals helped me gain a deeper understanding of a variety of training methods. My athletes are in great shape and my physique clients feel stronger and more athletic.
In most recent years I've been helping serious gym users and physique athletes across the globe look great naked with my Online Coaching Program. Click HERE to find out more how you can work with me.
In 2014 I co-authored The Complete Running and Marathon Book (DK Publishing) where you'll find all the strength and core exercises you need to run further and faster. My latest book, Ultimate Abs: The Definitive Guide to Building a Chiseled Six-Pack (Human Kinetics) has been named as the most comprehensive guide on core and abdominal training ever written. You'll find it available at Human Kinetics, Amazon and all good book stores worldwide.
I'm a self-confessed coffee addict and nerd. As in goes to coffee tasting events kind of nerd. I'm also partial to baking cakes – I make a mean chocolate-guinness cake, if you're ever in need of Guinness-clogged arteries.
Then there are my family. My world. I'm both a dog-dad to Ozzie, and father to Harvey. Both of which keep me busy!!
Anyway…Here's some boring stuff you may or may not care about:
Masters Degree (MSc) in Strength and Conditioning Science
Bachelors Degree (BSc) in Sports and Exercise Science
Certified Strength and Conditioning Specialist (NSCA – maintained since 2011)
Endless bolt-on qualifications, workshops, conferences, blah, blah..
Exercise geek. But hey, if that apocalypse happens that'll be important, right!?
If you ever want to get in touch please feel free drop me an e-mail using the form below.
[contact-form][contact-field label="Name" type="name" required="true" /][contact-field label="Email" type="email" required="true" /][contact-field label="Website" type="url" /][contact-field label="Message" type="textarea" /][/contact-form]