Lumberjack landmine squats are the best squat you've never tried. Bold claim, yes, but… If you struggle with squat depth, they'll allow you to get deeper. If you've cranky elbows or tight shoulders a barbell squat could be a struggle; not Lumberjack squats though!
If you enjoy goblet squats but can't use enough weight, then Lumberjack squats eliminate the excuse – load as much as you'd like, and safely. Your quads and glutes will get a much-needed beating, and you'll feel good when doing it (as good as some squats can feel anyway).
After writing about these recently, notable fans of Lumberjack squats now include renowned strength coach Jon Chaimberg (who's trained the likes of Georges St Pierre and Rashad Evans), and T-Nation power couple Chris and Dani Shugart. Here's how to correctly setup and execute the lumberjack squat.
Setup
You need a landmine unit – Most gyms that actually invest in their members should have a landmine unit. If you don't know what one is, it's usually the thing in the corner used by meatheads for questionable jerky-hip-back-row things (apparently T-bar rows).
You might also find a landmine unit attached to the outside of a squat rack. Just make sure you have one of these, and if you don't appeal to the higher powers at your gym to get with the times and purchase one. One thing not to do, though, is to just use the corner wall of your gym – it'll likely put a hole in the wall, pissing off said higher gym powers.
A 7-foot Olympic bar works well for most – Chuck a barbell in your landmine unit. I've successfully done these with everything from a 5ft stubby bar, to a 7ft olympic bar with an Indian club attachment on the end (making it about 8ft). A standard 7ft Olympic bar is fine for most, works will for both men and women of various heights, and the 20kg (45-pound) bar is generally light enough for beginners.
The bench is key – These can of course be done without starting on a bench, like your standard landmine squats. But starting on a bench is a real game-changer for anyone I've tried this with. The setup takes a little longer, but once you feel what it does for the exercise you'll be won over like all the rest.
The bench allows you to set your body position, allows you to lift a more challenging weight (without having to awkwardly whip it up from the floor), and makes it easy to add or take weight from the bar (particularly useful for some sadistic drop-sets).
Bench height matters!
I'm 5ft 11 and most standard bench heights work well for me and my squat ability. I've successfully used a bench with clients 5ft 4 and below too – it depends on the depth you're trying to achieve.
If a bench is too high then just use a few steps piled up. If you're a giant or your squat depth is lacking, you can use a bench with a few plates piled up on top.
Take a look at the video again and notice the setup. Once you've figured the right height and depth for you then you're good to go.
Technique
Hop yourself under the bar, getting it close to your chest and cupping it with both hands. You can interlock your fingers, go hand-over-hand, or stagger your grip. Just go with what's comfortable for you. As a good rule I try to encourage a bar position high enough on your chest where your thumbs if extended can touch your clavicles.
Adjust your stance and foot placement. Pick a squat stance that'll allow you to get the most hip and knee range of motion. Basically, when you hit depth it'll feel the most comfortable. The best way to decide is to do a few reps and gradually shuffle your feet around until it feels good.
Get set, get everything tight, brace your abs and squeeze your butt.
Keep the bar position on your upper chest solid.
Overcome the inertia of the dead bar and fire out of the bottom position.
As you squat up you'll find yourself coming slightly forwards as the landmine will determine the pattern.
You might find you'll need to stand further back than you thought, but don't worry – when you know you know.
Take a breath on every rep (as if you need reminding!).
The bench is your depth-check. Get to the bench every time, but don't loose the tension. I suggest losing no more than 50% of the weight through the bench on every rep. It's my same recommendation for most box squats and even floor presses. This allows you to maintain tension/tightness, while also getting some of the benefits of overcoming a little dead weight every time.
Once you've nailed the setup then add as much load as you'd like.
There are other variations you could experiment with too. I wrote about them here: The best squat you haven't tried
Considerations
To quote Leo on The Wolf of Wall Street, I'd be lying if I claimed that landmine squats only offered "huge upside potential with very little downside risk". The exercise is effective, safe and it feels good. But there's something that does bug me.
The profile of the exercise is one where because of leverage factors the load is greater in the bottom position than in the top (this is the same on all landmine exercises). On the other hand the strength profile of your legs in any squat exercise is one where you're weakest at the bottom but strongest at the top.
This would make it a useful glutes exercise since it loads the bottom of your squat where your glutes play their biggest role. But for your quads you may need a little more.
For optimal quads development you're best including other exercises in your training plan that load the top portion, in addition to Lumberjack squats (e.g., reverse banded squats/smith machine squats, pendulum squats, reverse banded hack squats, half-squat variations, 1.5 rep squats emphasising the top position).
Another solution that I've used is to add a resistance band on the landmine to help 'even-out' the resistance profile. A strength band looped over a couple of dumbbells on the floor will work, or you could just step on the band.
The above info doesn't negate the huge upside potential of Lumberjack squats. Although if we're being super anal about the semantics it's stuff you might consider. Apart from for me, don't loose sleep over it. Lumberjack landmine squats are still the best squat you've never tried. Now its your turn.
If you try them I'd love to hear about it. Comment below your thoughts and findings, or share this article with a friend that could benefit.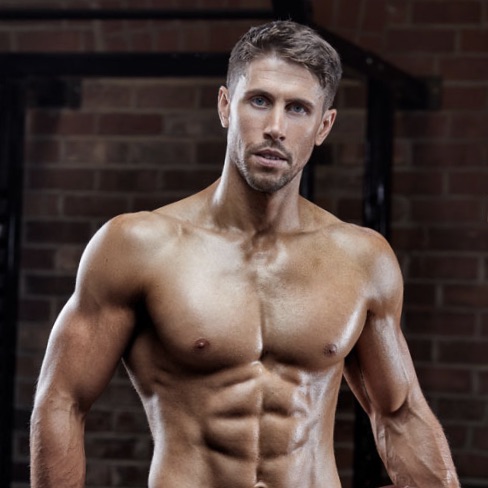 I build Olympians, Cover Models and those who want to look like them. Author or "Ultimate Abs" available in all good book stores.