At The Fitness Maverick we're a big fan of adding fruits and veggies in meals and snacks whenever we can. It also seems that we're a big fan of making brownies using sweet potato, as you'll see from past recipes.
HERE you'll find a baked version of a 100kcal sweet potato brownie. Lower protein content at 4g each, but an excellent junk-free snack. This recipe also doesn't require protein powder like the one today does.
And then there were THESE no-bake sweet potato brownies. The texture in these can be compared to a brownie-fudge hybrid, with the taste to match. They're super easy to make too, however, the ingredients will cost you a little more. Although these are yet another junk-free recipe, the protein content was a little lower than what I would like for a 'macronutrient-friendly' snack.
That's where today recipe comes in. I wanted to make a brownie that wouldn't cost you an arm and a leg, pack a nutrient dense punch, and include a good hit of protein. The Nutella in this recipe isn't a bad addition either!
These brownies are more 'cake-like' than the other recipes, but because of that the portion sizes are bigger than what you think, and for 120kcal and 10g of protein you can't complain.
If you're sick of processed protein bars full of sugar alcohols (maltitol, IMO syrup etc) that make others scared to be in the same room as you, then these brownies are a good 'wind-free' option.
INGREDIENTS
2 large sweet potatoes cooked and mashed (without skin)
100g (1 cup) chocolate flavour protein powder (I used ONNIT Grass Fed Whey)
4 whole eggs
4 TBS coconut flour
2 TBS Nutella + 1 extra spoon for topping
1 TSP baking powder
METHOD
Preheat the oven to 175c/350f.
Using an immersion blender, blender or food processor combine all of the ingredients.
Pour the mix in to a brownie pan, then dollop the extra spoon of Nutella on the top using a knife to spread it around.
Place in the oven for around 35-40 minutes, or less if you prefer gooey.
Let the brownies cook a little before cutting in to squares.
DIG IN!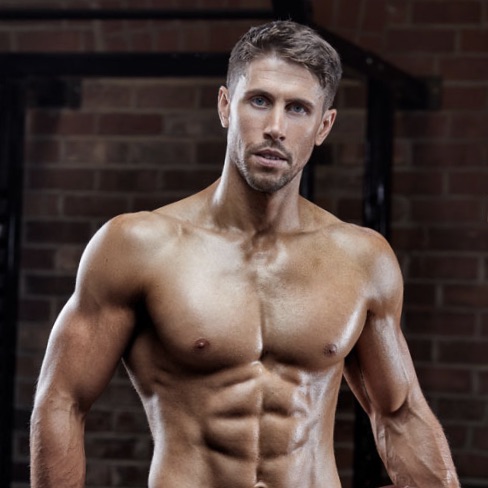 I build Olympians, Cover Models and those who want to look like them. Author or "Ultimate Abs" available in all good book stores.