These healthy sweet potato waffles must be one of my favourite creations ever. Whilst they may not look the most tempting recipe on here (the likes of my One-Pan Cookie has you more than covered there!), what they lack in looks they make up for in versatility and ease to make.
They also cost next to nothing, using ingredients you probably already have in your kitchen.
If you've got your own waffle maker I'd prefer you use that for this recipe, but if you don't, making pancakes with the mix can be (almost) as good.
I've gone through four waffle makers now as I use them so much, and picked up my last one for just £25 (see Amazon link HERE). They're well worth the investment then, especially when you know that my Easy Protein Pancakes Recipe work well as a waffles too!
Today's healthy waffles make the perfect high-protein slow-carb breakfast or brunch. They can be served sweet with a little honey and yogurt, and a handful of berries. They can also be served like in the picture I've chosen to tempt you with, with a few rashers of good quality bacon and a little drizzle of pure maple syrup. This was my Sunday morning brunch last week you're seeing, and I'm not ashamed to say I went back for seconds!!
It might also sound random, but try them with a Chilli Con Carne and a little sour cream or cheddar on top. You'll never have rice as your complimentary carbs ever again afterwards!
These healthy sweet potato waffles work great as a meal prep option for during the week too. I often cook them up in batches and freeze them. Chuck them in the toaster or under the grill in the morning to reheat, and you've got a healthy breakfast in minutes with very little mess.
The macronutrients shown below are for the waffles only, without the extras. Remember you can add extra protein (lean bacon or turkey rashers, chicken sausage, Greek yogurt), carbs (natural honey, pure maple syrup, fruits) or fats (avocado, nut butters) depending on your own needs. These waffles provide a nice base for plenty of topping options.
INGREDIENTS
Approximately 120g or 1 large sweet potato cooked and mashed (without skin). You can also buy pre-mashed sweet potato, or even substitute for tinned pumpkin.
2 whole eggs
30g oats
100ml milk of choice (cows, almond, rice)
Few pinches of good salt
0.5 TSP baking powder
0.25 TSP ground cinnamon (or more if you prefer)
METHOD
Using an immersion blender, blender or food processor simply combine all the ingredients until a smooth mix is formed.
If you have a waffle maker turn that on and cover with a little cooking oil spray.
If you're making pancakes, ensure you have a good non-stick pan, placed on a medium heat with a little cooking oil spray.
Pour one-third to one-half of the mix in to your waffle maker or frying pan.
For waffles simply follow the instructions of you waffle maker, then repeat with the rest of the mix.
For pancakes allow 2/3 of the cooking to take place on one side, allowing bubbles to form on the top before carefully flipping over. The more cooking you can do on one side the better, as this mix can be a little delicate if not cooked enough.
Top with your favourite sweet or savoury sides or leave to cool before throwing them in some Tupperware and refrigerating/freezing for the week.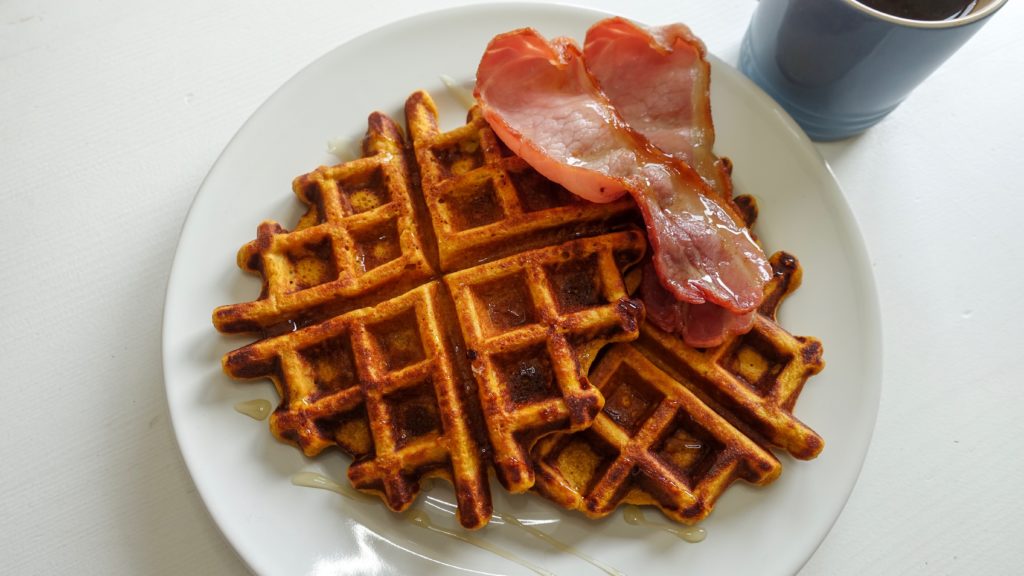 If you liked this recipe please leave a comment below, or use the social media buttons to share it with someone that will. Enjoy!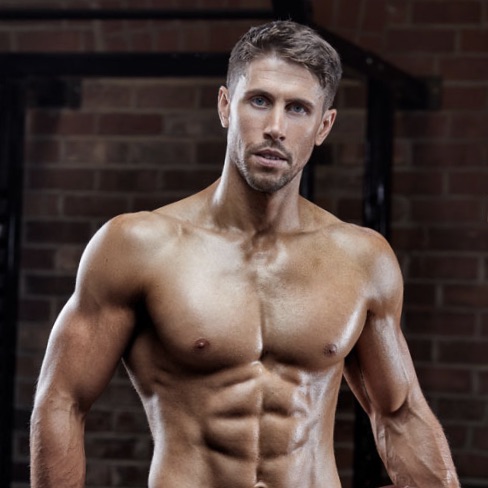 I build Olympians, Cover Models and those who want to look like them. Author or "Ultimate Abs" available in all good book stores.