This is one of those healthy breakfast or sweet treat recipes everyone should know. Very simple to make, a great meal prep option if you bulk cook, and often with ingredients we all have lying around. These pancakes are extremely versatile, and if you're creative enough there are an infinite amount of ways you could adapt them. You could make these in to blueberry pancakes, or even chocolate chip for a little more naughtiness. One of our favourite things to do is even replacing the bananas with tinned pumpkin and adding some pumpkin spice (or nutmeg and cinnamon). You haven't lived unless you've tried pumpkin spice pancakes with a tiny drizzle of maple syrup. As a bonus this mix will also make waffles providing you've got a waffle maker.
These pancakes are gluten-free, refined sugar free, a good source of slow carbs, filled with fibre, and a good source of protein. A perfect breakfast for before or after your morning workouts.
Makes 1 portion (around 3-4 small pancakes): 368kcal, 44g carbs, 10g fats, 28g protein.
YOU'LL NEED
A blender or food processor
Frying pan
INGREDIENTS
2 medium free range eggs
1 ripe medium banana
1/3 cup rolled oats
1/2 scoop (15g) protein powder (flavour of choice)
1/3 TSP Baking Powder
Spray oil for cooking
SOME TOPPINGS WE LIKE
Fresh or Frozen Berries
Natural or Greek Yogurt
Small drizzle of natural maple syrup or honey
INSTRUCTIONS
Simply throw all of the ingredients in to your blender or food processor and blend until everything is smooth.
The mixture is fully blended when the oats have been ground finely and combined in to the mix well.
Place the frying pan on to a medium heat.
Give the pan a few sprays of oil (or teaspoon of coconut oil) and pour a little mixture in to the pan. The size of the pancakes are up to you.
The pancake will start to bubble on top as the baking powder gets to work creating the fluffy pancakes you're looking for.
Flip when two-thirds set, about 2-3 minutes.
Cook evenly on each side.
Enjoy with your favourite toppings.
Time and money saving tip: This recipe works well with bananas that you'd otherwise throw out for being over-ripe.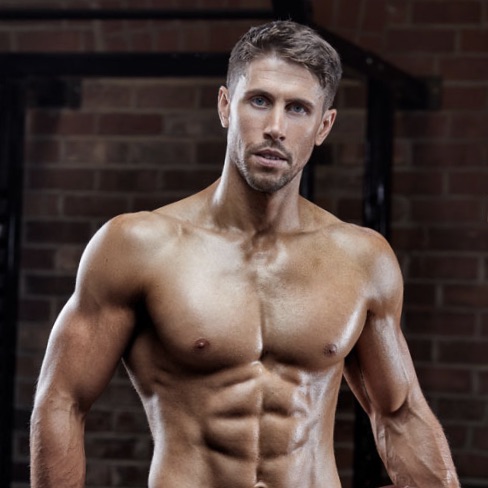 I build Olympians, Cover Models and those who want to look like them. Author or "Ultimate Abs" available in all good book stores.