Quit with the unnecessarily complicated protein cheesecake recipes. These baked mini Oreo cheesecakes require just five ingredients, are deviliciously delicious, and won't ruin your waistline. Let's not waste anymore time. Here's how they're done.
Makes 6 ramekins. Macros in each:
Calories: 187
Fat: 9g
Carbohydrate: 12.8g
Protein: 13.4g
Ingredients:
12 Oreo Thins
200g / 7 oz 0% fat Greek Yogurt
340g / 12 oz Philadelphia Light Cream Cheese
40g / 1.4 oz Protein Powder (vanilla or similar)
40g / 1.4 oz Powdered Erythritol (optional for added sweetness)
Tools:
6 Ramekins or large muffin cases
Food mixer or bowl
Deep baking dish used to make a bain-marie (water bath)
Wooden spoon
Oven
Method:
Preheat your oven to 180c (350f) and boil your water kettle.
Using your hands break up approximately two-thirds of the Oreo thins. Place them evenly in the bottom of each ramekin.
Leave approximately one-third of the Oreos to break up and place on top of the cheesecakes after cooking.
In the food mixer or bowl soften the cream cheese. Then combine with the rest of the ingredients until the mixture is smooth and silky.
Spoon the creamy mixture evenly in each ramekin or muffin case on top of the crushed Oreos. Give the ramekins a few taps on your work surface to make sure there's no gaps.
If you're using muffin cases then place them directly in the oven as you would if baking some muffins.
If you're using ramekins then you can also place these directly in the oven. However, using a bain-marie I feel gives these a better texture and finish. For this just make your deep baking dish in to a water bath, placing the ramekins gently in to the bath (the hot water only needs to come about half way up the ramekins), then place the bath in to the oven.
Bake on the top shelf at 180c (350f) for approximately 16-18 minutes. You're looking to catch them at the point just before they color on top.
Leave them to cool and set, then ideally refrigerate before eating.
Before serving the cheesecakes place the rest of the Oreos on top.
Variations
Try swapping the Oreos for Biscoff for similar macros. You can also have a play around with different flavor protein powders, and try adding sugar-free sauces and syrups on top. Use small muffin cases to make more bitesize oreo cheesecakes, although be sure to adjust your cooking times.
When to have them
With a combination of whey and casein and little fat, these Oreo cheesecakes would make an ideal evening treat for a hit of slow releasing proteins before bedtime. Otherwise, anytime is a good time for cheesecake.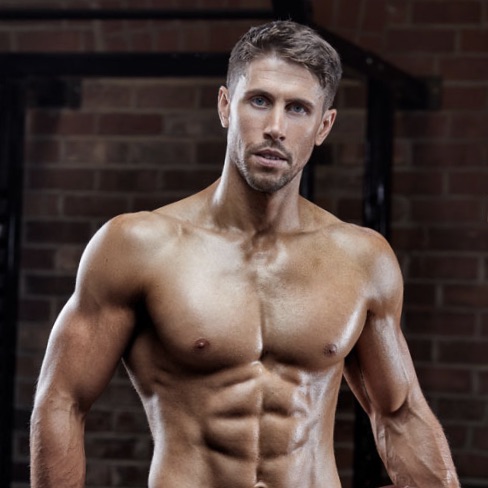 I build Olympians, Cover Models and those who want to look like them. Author or "Ultimate Abs" available in all good book stores.