Not going to lie, this recipe is dangerous. It's dangerous in that it's so quick and easy to make, and utterly addictive.
These chocolatey slices just melt in your mouth, packing a powerful flavour punch of almonds and pure cacao. Nut butter and chocolate is a dream combination, so anyone that likes either will love these. The addition of the slivered almonds add a great texture difference, as well as help to add to the nutritional profile of these guilt free treats.
Can you use cocoa instead? Yes, sure of course you can. Just be aware the difference between cocoa and cacao. Raw cacao is made by cold pressing unroasted cocoa beans. Cocoa powder on the other hand is roasted, which can give it a stronger flavour, but sacrifices beneficial enzymes. Cacao also has a lower fat content. In most recipes one can be substituted for the other, however
here will be a different mouth feel and texture to a recipe depending on which one you use.
These Slices are awesome! Just make sure you're only having one slice at a time… okay, maybe two but that's it! These make for a great snack to go with your cuppa, or even a quick breakfast grab and go. Give them a go.
Cacao & Almond Slice – Refined sugar free, vegan, paleo, healthy fats, and a good protein hit. Addictive.
INGREDIENTS:
1 cup raw cacao powder
1 cup natural smooth almond butter
1/2 cup maple syrup
3/4 cup slivered almonds
METHOD:
In a saucepan over medium-low heat, melt down together the coconut oil, cacao powder, syrup and nut butter.
Heat until fully melted and combined to a smooth texture.
Prepare a deep baking tray or loaf tin with some fresh baking paper.
Still in the pan pour in the slivered almonds and combine. If you don't like almonds any other nut would work.
Pour the mix in to the loaf tin and refrigerate until set.
Cut in to 12-16 slices
Keep stored in the fridge for the best texture.
Enjoy 🙂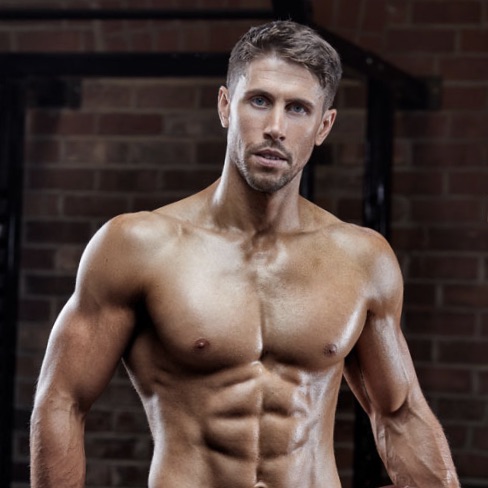 I build Olympians, Cover Models and those who want to look like them. Author or "Ultimate Abs" available in all good book stores.