These egg protein bars are a convenient way to hit your protein on the go. Store them in your desk draw, glove box or your gym bag, and they're good to go anytime you need. Egg protein bars are also a great option to curb a sweet craving without the bloat or water retention some other bars give.
The sugar alcohol problem
If you're anything like me, too many of the standard shop-bought protein bars can have a somewhat unpleasant side-effect. Typically, it's the polyols (sugar alcohols – erythritol, maltitol, isomalt, sorbitol, xylitol etc.) most contain that have this effect. Through the digestive process polyols are fermented by your gut bacteria causing a release of gas. That gas only has one place to go…
Finding protein bars without polyols can be more of a challenge than you think. Then when you do you find they're even more expensive than most bars, and contain inferior sources of protein (e.g., soy). These egg protein bars are a fraction of the cost of any bar, saving you big over time.
Sweeteners – not bad but not necessary
Most mass-produced protein bars contain non-nutritive artificial sweeteners (sucralose, acesulfame potassium, aspartame etc.). There's nothing wrong with sweeteners. Current scientific evidence can confirm that even aspartame won't make you grow an extra few fingers or toes.
To summarise a 2015 review on the nutritional benefits and risks of sweeteners:
"Regarding nutritional risks (incidence of type 2 diabetes, habituation to sweetness in adults, cancers, etc.), it is not possible based on the available data to establish a link between the occurrence of these risks and the consumption of artificial sweeteners" (Bruyere et al. 2015). That paper can be viewed open access HERE.
If you're looking to cut down on the artificial stuff though, these egg protein bars are naturally sweetened with medjool dates. The health benefits of dates aren't a bad reason to add them either.
Why no whey?
There are those that don't deal well with whey protein, for what ever reason that might be. Personally, I'm fine with whey, and so are many others.
But for those that don't deal with it well with milk proteins such as whey then my personal suggestion would be to try an egg white protein powder (or beef protein), before reaching for inferior plant-based options.
Milk Protein (whey isolate, whey hydrolysate, whey concentrate, casein) > Beef (isolate, hydrolysed) or Egg White Protein > Multiple-Source Plant-Based Blends > Single-Source Plant-Based (brown rice, pea, hemp etc.).
Egg white protein has a great amino acid profile and excellent bioavailability. In these egg protein bars the added protein is barely noticeable. Which is what you want from a protein bar, leaving only the taste of the chocolate, nuts and dates to enjoy.
Tate and texture
The first time I made these bars I couldn't get enough. They're like fudge, but fudge with a nice little protein and energy hit to them. The second time I made them I upgraded the original chocolate version with some sea salt. Now we're talking next-level chocolate protein bars with a kind of salted-caramel undertone. It's a great sweet-salty craving crusher.
If you need a protein bar to have as a pre-workout snack then the chocolate, almonds, and sea salt in these will make for an excellent muscle pump and energy provider. I wrote about why HERE.
If you don't deal with whey protein or polyols very well, then these are a no-brainer to give a try.
Egg protein bar tips
For the best consistency ensure you process the nuts until they're a fine crumb. If you like some crunch in there from whole nuts, then better to add these in as extra at the end. This recipe produces a smooth fudge-like bar.
I've made these with a large bullet blender and a food processor. A bullet blender does work but you do need to combine by hand after a certain point. A food processor does a much better job and with much less mess.
If you don't want to use egg white protein then you could try substituting for a milk-based protein if you have no issues, or a plant-based blend. Although the quantity used may need to be adjusted depending on how wet or dry the mix. It should form a mouldable ball of dough.
If you don't want to make bars, this recipe will produce about 30 good size protein balls.
Once they're made keep them stored in the refrigerator. They are fine at room temperature, but far better when kept cool. You can also store them in the freezer.
Ingredients (makes 18)
500g Medjool Dates
100g Egg White Protein (unflavoured)
150g Cashews
150g Almonds
60g Cocoa powder (no sugar added)
1 teaspoon Sea Salt
Method
Line a tin or large Tupperware with baking paper, including the sides.
In a food processor blend down the cashews and almonds to a fine crumb.
Add the rest of the ingredients and continue mixing until a dough is formed.
If your mixer has trouble combining everything then do the final bit by hand.
Roll the mix in to a ball then use your finders to press down in the tin/Tupperware to all the corners. Use the back of a spatula or other flat object to flatten.
Add extra sea salt on top at this point, pressing down in the bars a little.
Refrigerate for at least an hour before removing and cutting in to around 18 squares.
Use the baking paper to individually wrap the bars so they don't stick together, and for an easy grab and go.
If you'd like to smash some physique goals, and want to have the freedom to eat your favourite foods, then why not let me be YOUR Trainer and show you how. Click on the picture below to find out more.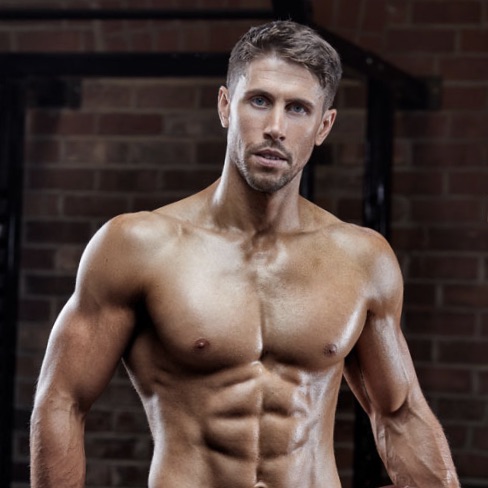 I build Olympians, Cover Models and those who want to look like them. Author or "Ultimate Abs" available in all good book stores.