We aim to cram fruits or veggies in every meal to really maximise the health and goodness of what you're eating. When you're trying to get lean, gain muscle or even just eating for performance you should look to get the most valuable nutrition from what you're eating. These sweet potato brownies do just that, and taste good whilst doing it. Just like our previous 'no-bake' sweet potato brownie recipe these brownies make for a healthy guilt-free treat, that pack in the goodness of sweet potato, antioxidant-packed dark chocolate, and other natural ingredients. As a bonus they're really easy to make too!
INGREDIENTS
1 large mashed sweet potato
3 tablespoons coconut flour
2 tablespoons cacao powder
1/3 teaspoon baking powder
50g melted dark chocolate (+70%)
2 tablespoons natural peanut butter
1/3 cup pure honey
3 eggs whisked
Pinch of salt
(Optional) extra peanut butter for topping
METHOD
Preheat the oven to 180c fan assisted, and prepare a baking or loaf tin with baking paper.
In a large mixing bowl place in the mashed sweet potato. If you can't buy ready mashed sweet potato then place one in the oven to cook before scooping out the inside.
Next place in the bowl the dry ingredients, followed by the wet.
Simply combine the ingredients together well until the mixture is smooth.
Place the mix in to your already lined baking tin and spread out evenly.
(Optional) Dollop another tablespoon of peanut butter on top, using a fork to spread around.
Put in the oven at 180c for approximately 25 minutes. The mixture should not set and remain gooey in the middle.
Take out of the oven and leave to cool before cutting in to 8-10 brownie slices.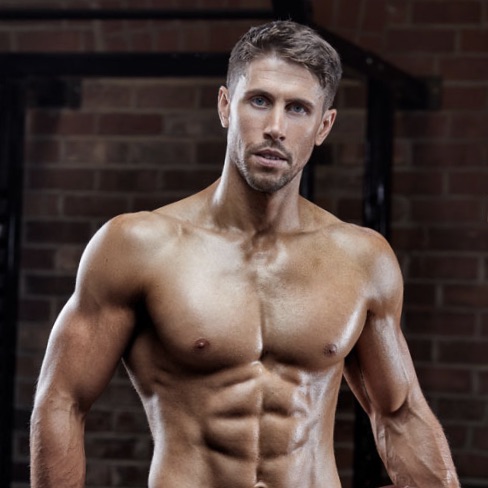 I build Olympians, Cover Models and those who want to look like them. Author or "Ultimate Abs" available in all good book stores.