Don't have time for breakfast? Always running out the door without something healthy inside your belly? Look no further, we've got your back with these Banana Blueberry Brekkie Muffins.
These muffins are the perfect grab-and-go breakfast, or as a healthy snack or treat. Gluten free, a good source of natural carbohydrates and antioxidant rich fruit, and a nice little hit of healthy fats and protein.
Finally, a healthy grab and go breakfast that wont make you feel bloated and instead leave you feeling energised for the day. Why not have two!
Per Muffin (with walnuts): 136kcal, 10g carbs, 9g fat, 4.8g protein
INGREDIENTS (makes 6  muffins)
3 Whole Eggs, beaten
1/4 Cup Coconut Flour
1 Ripe Banana, mashed
2 TBSP Grass Fed Unsalted Butter or Coconut Oil, melted
3 TBSP Natural Honey
2 TBSP Milk of choice (Cows, Almond, Coconut)
1/2 TSP Baking Powder
1/4 TSP Salt
1/2 TSP Ground Cinnamon
Handful Blueberries
2 TBSP chopped walnuts and Pumpkin seeds/Pepitas (optional)
METHOD
1. Preheat your oven to 180c/350f.
2. Simply place all of the ingredients in to a large mixing bowl, leaving out the blueberries and nuts/seeds.
3. Mix everything well until a smooth batter is formed. This can also be done in a good blender or food processor. You will find the mixture thicken after a few minutes as the coconut flour absorbs some moisture. If you feel the mix is still too wet then add a dash of extra coconut flour.
4. Mix the chopped walnuts in to the batter.
5. Spoon the mix evenly in to 6 muffin cases.
6. On top of each muffin place the blueberries and an optional sprinkle  of seeds.
7. Bake for 25 minutes until golden brown, or a toothpick comes out clean.
8. Leave to cool before storing in an airtight container for up to 4 days. These muffins will also freeze well.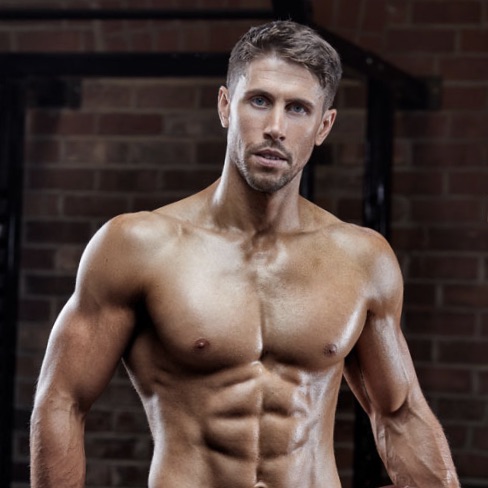 I build Olympians, Cover Models and those who want to look like them. Author or "Ultimate Abs" available in all good book stores.