Every once in a while you come across a recipe that literally blows your mind…!These brownies are one of said recipes. With just four fairly inexpensive ingredients that most of us have sitting around, you can make yourself over a weeks worth of healthy snacks or craving crushers. These beat the life out of a shop bought protein bar any day of the week, and are much-much healthier.
Are you ready to know the four key ingredients yet? Well here goes: Bananas, cocoa or cacao powder, any nut butter, and protein powder. That's it.
Yes, there are extras you can add (I'll share some below) to make them even tastier, if that's possible! But the right combination of these four simple ingredients can make you some healthy brownies that'll trick even your fussiest of friends in to thinking they're the real deal.
Best of all as you can see by the ingredients there's absolutely no junk in these brownies. There's no added sugar, they're completely grain free, and vegan too. In fact I even tried this recipe using both a whey and casein protein, and it wasn't half as good as when using a plant-based protein powder (see why below).

Now here's the deal. There are a few key elements to this recipe that are the key to its success, so take note. The first is the use of overripe bananas, and the second is your choice of protein powders.
Because there's no added sugar in this recipe of any kind, making sure your bananas are overripe is key. Yeah-yeah ripe bananas have more sugars, and green ones are better for you!! But ask yourself if you'd prefer to use overripe bananas in this recipe, or add some sugar. It's your choice, but nobody really likes a green banana, even if they do have a lower GI, and can be considered a prebiotic. Your green bananas are good my friend, but they're not good here.
Secondly you can't really use a whey protein. I've tried, and it turns the mixture kind of like melted rubber, and when baked is something of an acquired texture. I've also used a whey and casein blend (a time release protein) which usually bakes quite well, but in this instance still wasn't quite right. Although much better than the whey alone. Above everything else a vegan brown rice protein turned out the best by far. You could try with a hemp or pea protein but personally brown rice protein is the best tasting of vegan blends, and contains a good nutrient and amino acid profile. I also haven't tried using pea or hemp protein, so please proceed with caution. Here's the protein that I used, it's available in many nutrition stores or amazon HERE. 
I should also note that I beefed up these brownies a little with some added texture and tastiness coming from some chopped macadamia nuts and some Rumbles Paleo Choc Rocks (I think available in Australia only I'm afraid). The macadamias have an excellent fat profile, but above all add good taste and texture, and the Choc Rocks were exactly like adding some chunky chocolate chips to the recipe, but minus the nasties. You might choose to use a good quality chopped up dark chocolate, or sugar/dairy free chocolate chips instead. Or don't add anything at all, our choice.
Anyway, enough about that! You get the picture, you can pretty much add whatever you like to the basic recipe to make it even more fun. Just keep it clean, especially if your one of my Body Upgrade clients.
INGREDIENTS (makes 9 squares)
3 medium overripe bananas
1/2 cup any nut butter (I used cashew butter as I like the neutral flavour and creaminess, but almond butter works great too. Only use peanut butter if you want it to taste strongly of peanuts!)
3 heaped TBSP cocoa or cacao powder
40g (around 1.5 to 2 scoops) Vegan Blend Protein Powder (as above I used THIS brown rice protein). A natural flavour works best, but vanilla or chocolate will also work)
Optional extras: Stevia or monkfruit sweetener for extra sweetness if required, chocolate chips, nuts, dried fruit.
METHOD
1. Preheat the oven to 180c/360f.
2. Prepare a roughly 8 x 4 baking tin with baking paper. You can also bake these in muffin trays, but less cooking time will be required.
3. In saucepan or microwave bowl, gently heat the nut butter so it becomes more runny.
4. In a food processor (or good blender, or hand blender) combine the nut butter with the bananas in to a smooth paste.
5. In a bowl combine the nutty banana mix with the cacao powder and protein powder. Add just a small amount of protein at a time and ensure it combines well in the mix.
6. Mix in any additional ingredients like chocolate chips, nuts or dried fruit, or save for topping.
7. Spoon the mixture in to the prepared baking tin, evenly distributing the mixture all the way to the sides. Add additional toppings of choice.
8. Place in the middle of the oven for 15-20 minutes. You can leave the middle of the brownie slightly gooey if you want to.
9. Leave to cool a little before serving. For some reason this brownie actually tastes better cold, with the texture changing after being stored in the fridge for a day. For this reason it's the perfect meal prep idea to last most of the week… the key phrase there being "last the week"!
10. Cut in to around nine delicious squares, and enjoy.
When cut in to nine squares and using cashew butter as in mine, each brownie contains: 145kcal, 13.4g carbs, 7.7g fats, 7.3g protein.

Enjoy tasty and healthy treats like this in the 90 DAY BODY UPGRADE PROGRAM recipe guides!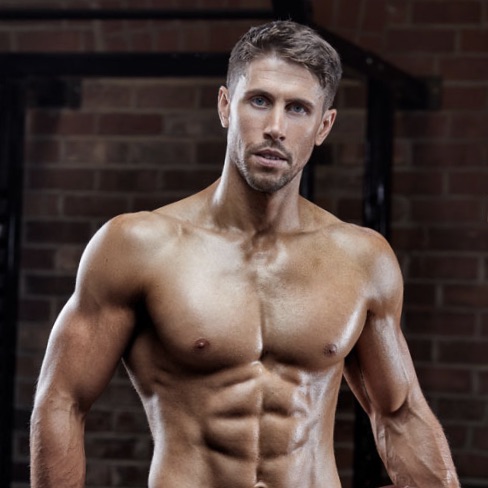 I build Olympians, Cover Models and those who want to look like them. Author or "Ultimate Abs" available in all good book stores.