A traditional New York-style cheesecake is a favourite on anybody's list of sweet treats. As tempting as the buttery biscuit base and creamy filling is, though, it's not always the most physique friendly of foods.
That digestive biscuit or graham cracker base is a little sugar-heavy, and typically not with the best fatty acid profile either. The filling isn't any better either. Getting a dump of high sugar with high fat all at once we know not to be a great combo.
The classic New York cheesecake yields a rich, creamy and dense texture. This modified protein cheesecake comes damn close, but with better ingredients and much better macros.
Let's take a certain famous cheesecake 'shop' that has certain 'factories' all over the world. Their original cheesecake has around 830kcal, 64g carbs, 58g fat an a measly 12g protein per slice.
Their so-called skinny cheescake in their "low carb" option has 570kcal, 37g carbs, 26g fats, and 13g protein per slice. The fats are fine for low carb, but for low carb dieters that'll pop you right out of ketosis.
And trust me when I say the lower calories are in large part due to the lesser portion size. Half the size and half the calories, right!?
Even if you decide to go to town on this New York protein cheesecake and only get six generous slices out of it, you'd still be looking at 454kcal, 32g carbs, 20g fat and 23g protein. For most though, cut in to 8-10 slices would still give you a good wedge.
It's not low carb or low fat, but it's in the right direction to be a perfectly good physique-friendly snack. As an evening treat the high casein protein content could also make it a perfect bedtime protein source.
With a base made from oats, and a filling naturally sweetened and powered by whey protein what more could you want. Here's how to make it.
Macro's for the whole thing:
2724 calories
193g carbs
122g fat
136g protein
26g fiber
Ingredients
For the base:
1 cup rolled oats
2 TBSP natural honey
2 TBSP softened grass-fed butter
1 heaped TBSP crunchy peanut butter
½ tsp cinnamon
Few pinches of salt
For the filling:
3 scoops vanilla whey protein, or whey/casein mix (e.g., Biotest Metabolic Drive)
2 whole eggs + 1 egg yolk
600g (21 oz) light cream cheese
140g (5 oz) fat free sour cream
Topping:
1 cup raspberries or strawberries
Zero calorie strawberry syrup, or no added sugar strawberry jelly
Extra peanut butter if desired
Method
Preheat the oven to 350f/180c, then line a 9-inch springform tin with baking paper or foil.
In a pan over a low heat gently melt together the butter, peanut butter and honey.
In a bowl combine the warm syrup with the oats, cinnamon and salt. Mix well.
Pour the oaty mixture in to the lined springform tin, then press firmly to the edges.
Store in the freezer to help set fast whilst yosrearereforhhsiquemqe aake the filling. Alternatively refrigerate for 30 minutes.
Place all the ingredients for the filling in to a food processor, good blender or use a hand-held blender to mix until smooth and creamy.
Pour the filing mix in to the now set crumbly base. Throw in half the raspberries or strawberries. Leave some for topping.
Bake for around 40 minutes. This protein cheesecake will cook a little darker than a traditional version, so look for a golden top with some wobble left in it.
Allow to cool fully before finishing with the jelly and a few more berries. A drizzle of peanut butter wouldn't go a miss either.
Ideally refrigerate for at least a few hours to allow it to set fully before enjoying.
Tip: If you don't like PB&J then swap out the peanut butter for a more neutral tasting cashew nut butter, or even an extra TBSP grass fed butter. There are plenty of other topping options too.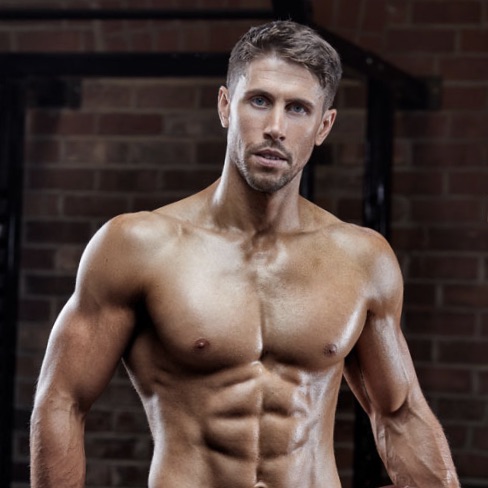 I build Olympians, Cover Models and those who want to look like them. Author or "Ultimate Abs" available in all good book stores.