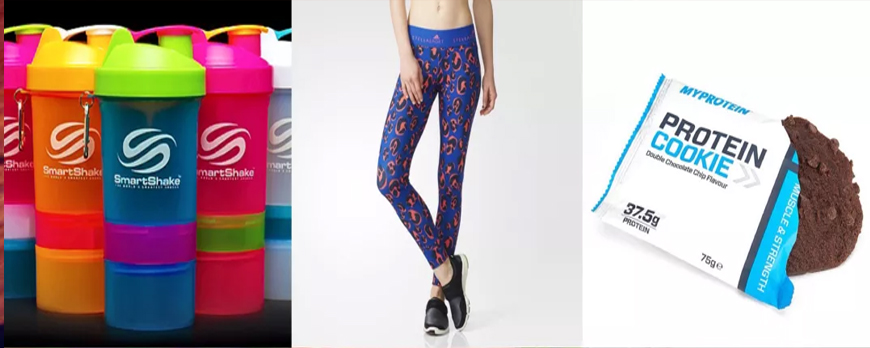 MUST-HAVE FITNESS CHRISTMAS STOCKING FILLERS 2015
CHRISTMAS GIFT IDEAS
If you're a fitness junkie, or even just getting started; then here's everything you need to ask for this Christmas. Okay, some are a little pricey for stocking fillers, and even a bit too big to fit inside your stocking, but there are some great gift ideas here that just couldn't be missed out:
SMARTSHAKE – £9.99 to £14.99 from Smartshake
If you don't have one of these already, then what are you waiting for!? The SMARTSHAKE solves the age old problem of your protein powder, and other powdered substances, from sticking to the bottom of your wet protein shaker. We've all had this problem, and it doesn't make for a very good shake, plus you could be losing out on gainzzz through half your protein still being stuck at the bottom of your old-school shaker. The handy storage compartments attached to the bottom of the shaker are useful for storing protein powder, pills or any other supps. I put almonds and things like that in the bottom of mine too. Well worth the investment.
ADIDAS GYM LEGGINGS by Stella McCartney – £40.00 from Adidas
Contrary to what some people believe, I don't wear girl's gym legging, but if I did I'd want them to look something like these. Adidas and Stella McCartney have combined heads to come up with these super stylish leggings. From what I usually see with this style of legging; the shape and higher waistline will also work to accentuate your butt, pulling in the waist a little and giving the appearance of even more curves in the right places. Ladies don't blame us if you get a bit more attention if you're wearing these, think of it as a compliment!
PERCHMOUNT FIT – £29.95 from Elite Gear UK
I don't have one of these yet, but as soon as I saw it I wanted one. It's like the gym-version of a selfie stick… you can take pics and videos of yourself in the gym, setting personal bests, exercise ideas, even checking your own form and technique, then shove them on insta, twitter, facebook etc. for other people's amusement! #greatidea
TRIGGER POINT BALL – £15.00 to £17.99 from Amazon UK
I use trigger point/massage balls all the time with my clients to help with their mobility and range of motion. I call it the "poor man's massage kit" as you can use them every day. Nothing beats a good hands-on manual therapist; but these massage balls are the best I've found, and a must-have staple for any gym bag.
PRO JUMP ROPE – £11.97 from Amazon UK
It used to be about leather jump ropes, then it was jump ropes with weights in the handles, and now it's about SPEED! These Professional Skipping Ropes are designed just for that. Plus they feel so much nicer to skip with, are easily adjustable, and take up hardly any space in your gym bag. They also make for a great workout at home. Try performing double-unders using a Tabata-style regime (20 secs work, 10 secs rest, 4 minutes) and see just what I mean. Another gym-bag essential.
PROTEIN PEANUT-BUTTER PRALINES – £3.00 from Musclefood
Why put 'ordinary' sugary sweets or an old bit of fruit in someone's stocking when you can get these!? Musclefood kindly sent me a bunch of goodies to review a month back, these were among them, and without a doubt they're the best 'healthy' sweets I've ever eaten. So much so that the whole pack lasted about 15 minutes! Opops!!
PROTEIN COOKIES – £1.99 from MyProtein
With 37.5g protein and less than 20g of healthy carbs per serving these cookies are a nutritional powerhouse. Couple that with their amazing flavours (they come in Chocolate Mint, Chocolate Orange, Double Chocolate, and White Chocolate Almond) and you're on to a real winner. They have some smart guys at MyProtein to have come up with these, because honestly I'd say these tasted just as good as the real thing….. and minus the guilt. Maybe you can leave one out for Santa on Christmas Eve and see if he enjoys it too. These come in big packs of 12 at £16.99 or sold in singles for only £1.99, so perfect as a little stocking goodie.
SPIRALIZER – £15.00 from Amazon UK
Ever tried replacing your starchy pasta carbs with courgetti? Well this is exactly what a Spiralizer helps you do; create spaghetti-style strips out of courgette, without having to go through the arduous work of cutting it by hand. It doesn't just have to be a courgette either; loads of other veg, and even fruit can be turned in to spaghetti spirals. A great tool for low carb cooking, or just for when trying to get more veg in to your diet. A Spiralizer is also a good idea to help your kids eat more fruit and veg, as you can cut things up in to funky spiral spaghetti, or disguise it in meals. A must-have in any fitness foodie kitchen.
SOCKS – £10 from Under Armour
….Because every man should have a pair of socks for Christmas! And not just any socks; a good pair of trainer socks, because everyone needs to show a bit of ankle! If for any reason you decide to take your shoes off in the gym then these ones from Under Armour have got to be better than the holey ones you might have at the moment. They also have moisture wicking technology built in to them, so hopefully less chance of smelling out the gym with your dirty old socks!
WATERBOBBLE SPORT WATER BOTTLE – £9.99 on Amazon UK
These are a smart take on the original Waterbobble. These sport bottles contain mini water filters that make sure the water you're drinking during your gruelling workout sessions is as pure, crisp and clean as it can be. There's nothing worse than drinking nasty water during your workout! The Waterbobble Sport is also pretty funky. You'll actually want to go to the gym just so you have an excuse to drink out of your Waterbobble!!
That's all fitness folks! With Black Friday on its way this coming Friday, and some retailers even starting their sales this Monday 23rd; you're sure to find some deals!! Have fun shopping!!