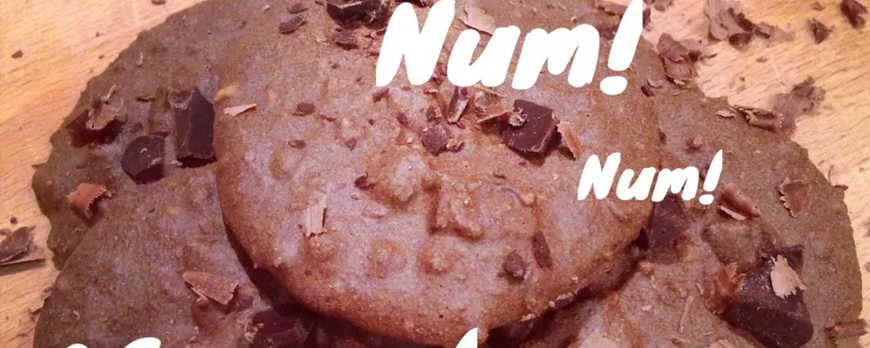 CHOCOLATE PEANUT-BUTTER REFRIGERATOR COOKIES
If I was forced to choose 5 different foods to live on for the rest of my life they'd be, in no particular order:
Peanut Butter
Coconut Oil
Protein Powder (Whey or Milk)
Mixed Berries (any type… raspberries, strawberries, blueberries etc)
and, Dark Chocolate
Now, I'd choose this list based on taste (because that's what's important, right!?), and nutritional value.
Peanut Butter because its backed with protein, healthy fats, magnesium, vitamin E, Zinc and various B vitamins. Plus I'm addicted to the stuff, so I think I'd have some serious withdrawal symptoms if I didn't get my daily fix!!
Coconut Oil because I believe it's the THE healthiest fat money can buy; full of medium-chain triglycerides (MCT's) for energy, it has metabolism boosting properties, and it's a great source of Lauric Acid, a fatty acid that has powerful immune properties.
Protein powder, whey or milk, because I believe it's ESSENTIAL for anyone that does any form of intense training. For why I think its important read more about it HERE.
Mixed berries because of their nutrient value, and tastiness. They're the best fruit in my opinion.
And, Dark Chocolate, just because…. Plus the Dark variety is full of flavonoids, known for their antioxidant and anti-inflammatory properties. So yes chocolate can be healthy!!
This recipe for Chocolate Peanut Butter refrigerator Cookies contain 4 out of 5 of my favorite foods. So it's a real winner in my books! Thinking about it now I probably could have incorporated the 5th ingredient (Berries), but hey ho! This recipe still makes for a great nutritionally packed, high protein snack, that just melts in your mouth. Super easy to throw together too. Here's how I made them:
Time to make: Less than 10 minutes to throw together, then at least 1 hour in the refrigerator.
Best Time to Eat: Anytime as a Lean n' Healthy snack,.. With your coffee in the morning,.. Or when evening cravings sneak up on you. You can also keep these in the freezer and eat straight from there, so they store for ages, just in case you need one for an emergency…!
Makes: 5 Cookies
Per Serving:
Kcal: 158
Protein: 8.8g
Carbs: 4g
Fats: 12g
Difficulty: Difficulty: No baking involved, and you only need a bowl and a spoon. Can't get easier than this!
Ingredients:

Method:
Place the Cocopure Coconut Oil in to a bowl, and gently melt in the microwave for around 10-20 seconds.
Place the rest of the ingredients in to the bowl and stir until everything's combined.
On a sheet of greaseproof paper, spoon the mixture in to 5 equal portions. The mixture should be a little sloppy at this point so should form in to cookie-type shapes.
Place straight in to the refrigerator and leave for at least 1 hour. Alternatively, you can put them in the freezer if you're feeling a little impatient.
Store in the fridge or freezer until you want to eat.
…Enjoy
Speaking of MyProtein goodies, you might also want to check out their awesome BLACK FRIDAY SALE coming soon!! I've had a little tip-off from a MyProtein insider that It'll be like Christmas coming early for lots of us that are fans of their products!!